Nationals Feature
Krajicek and Cox Head to New York with Kalamazoo Titles
by
Colette Lewis
, 14 August 2008
For Boys 18s champion Austin Krajicek, a semester of college tennis played an important role in preparing for the physical and mental rigors of Kalamazoo. For 16s champion Jordan Cox, a change in attitude between the quarterfinals and the semifinals resulted in an impressive ability to regroup when adversity struck.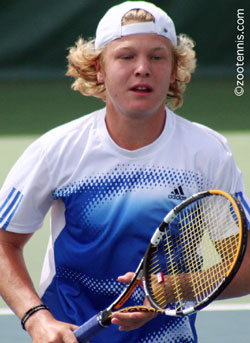 In Sunday's finals, played in breezy and unseasonably cool conditions, Krajicek, the No. 5 seed, overtook No. 8 seed
Ryan Thacher
2-6, 6-2 6-2, 6-0, while the seventh-seeded Cox held off No. 6 seed
Denis Kudla
6-1, 6-7(2), 6-3.
In both his 6-4, 7-6(0) semifinal victory over No. 5 seed Bob van Overbeek and in the final, Cox saw match points slip away from him as he was headed for routine victories. Against van Overbeek, the 16-year-old from Duluth, Ga. was up 5-1 in the second set, only to see hard-hitting Boca Raton, Fla. resident roar back to win the next five games. But in contrast to his fifth round and quarterfinal three-setters against Nelson Vick and Clay Thompson, where Cox's volatile temperament was often on display, there was no sign of an implosion.
"Not only Bob but everybody sort of knows me and expects me to at some point crack, get a little upset and frustrated," Cox admitted. "I focused on not letting anything upset me, to stay positive, not give them what they were waiting for, and that was the key to the match."
In the final, Cox again had his mettle tested when Kudla, of Arlington, Va., saved four match points serving at 3-5 in the second set, and won the tiebreaker going away. But even the large crowd, enthusiastically supporting Kudla's comeback, couldn't rattle Cox.