Special Feature
When Do I Take the Split Step?
by
Nick Bollettieri
, 8 September 2008
I have watched an endless number of matches over the past 50 years. I've seen players of all levels of play, from top professionals to beginning youngsters. The vast majority of players on all levels (with the exception of a few pros) slow down when approaching the service line, and then come to a complete stop right on the service line. If you closely watched the second week of Wimbledon, you noticed a large brown spot right at the service "T".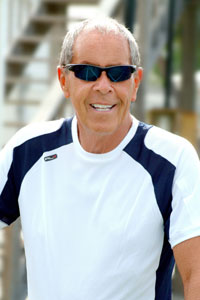 The counter-punchers (Nadal, Agassi) look forward to their opponents hitting their first volley from the service line. They know how difficult it is for the attacking playing to hit a short angled volley from this position. It also gives the counter-puncher more time to set up for the passing shot, because of the extra distance the ball must travel off the attacking player's racket.
Let's face it, many of the players that come forward towards the net do not want to play this way. Whether they serve and volley or attack off of a defensive ball, observe their forward motion to the ball, contact, and movement after contact. The majority of players, regardless of the methods they use to get to the net, move in a manner that makes it almost impossible to hit an offensive volley.
Some of the most successful volleyers include Patrick Rafter, Pete Sampras, Stefan Edberg, Boris Becker, Jonas Bjorkman, Max Mirnyi, Taylor Dent, John McEnroe, Martina Navratilova, Jana Novotna, and Justine Henin.
Observe their movement when you can. For the serve and volleyers, you will notice two parts to the serve: action and reaction. The action is the force of the legs driving the body up to the ball. The reaction is finishing inside the court. All of the aforementioned serve and volleyers end up well inside the baseline after contact with the serve, with their movement to the net being continuous and deliberate. They know they must reach at least the service line or beyond for the first volley. The split step of the serve and volleyer is not a complete stop, but a slowing down of sorts. The motion continues forward as the player determines the direction, speed, height, and spin of the ball. Then, to complete the entire movement, the player will use small quick steps to reach the ball.