Recruiting Profile
Top Prospect: Evan King
by
Colette Lewis
, 21 August 2008
Evan King hasn't missed much. Well, he skipped kindergarten, but the 16-year-old senior from Chicago is now surveying his college options with confidence, having found he could excel at tennis without abandoning the lifestyle of a typical teenager. With a string of high-profile accomplishments behind him, including titles at the 2006 Easter Bowl 14s, 2006 USTA Winter 16s and 2007 Illinois state high school championships - King is approaching the next stage of his tennis development in customary fashion.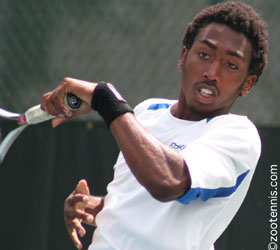 "Evan's always gone about it in the same way - he takes little steps, he never skips any levels," says David Roditi, a USTA High Performance coach who has worked with King for several years. "He keeps working on his game, keeps playing his age group, then he'll go up a little bit, then come down and play his age group. If you look at his development the last three, four years it's always been little steps at a time. When deciding whether he should go to college it was - what's the next level? The next level is to go to college."
King has a short list that is heavy on the schools that dominate Midwest collegiate athletics.
"Illinois, Ohio State, Michigan and Georgia are the big ones," says King, who will try to fit in official visits to these campuses between the U. S. Open Junior championships, September's ITF Junior Davis Cup competition in Mexico and the major fall ITF junior events.
"The California schools really haven't recruited me that much and I probably didn't want to go over there anyway," says the 6-foot-1 left-hander. "I really don't care about warm weather, since I'm from the Midwest. I'm used to indoor tennis, but since I've been in Florida, I'm used to the great winters down there."
After winning the Illinois state high school singles title in 2007 for Walter Payton Prep, a Chicago public school, King and his parents Van and Evelyn decided the new USTA High Performance Training Center in Boca Raton was the best option for continuing his development.