College Commitment
Fall Signing Week '08: Dunkle to Samford
by
Ali Jones
, 10 November 2008
Samford Coach Kemper Baker happily achieved his short-term goal for the Bulldogs: to win a championship after two years of falling one short. Victory was bittersweet, too, as he achieved it on his team's final year with the Ohio Valley Conference.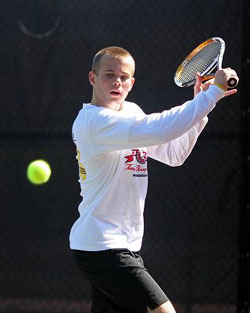 "I really can't think of a better ending to our tenure in the OVC," Baker said in a statement.
Coach Baker's task at hand now is to beef up his winning team that was losing seniors, including Hank Grant, who won the deciding match in the championships. He needs big-hearted and hardworking talent as Samford debuts in the Southern Conference.
Enter Zachary Dunkle, four-star recruit and third-ranked player in Georgia, a state that continues to spawn some of the best juniors in the country, including Donald Young, Ashley Harkleroad, Melanie Oudin and Grace Min. Coach Baker has tapped into the Georgia pool before and he found some standouts. Naturally, he had kept tabs on home-grown talent Dunkle and when the time came, offered him a spot.
The big-serving, big-hitting aggressor from Atlanta comes in with a positive attitude and a work ethic that will fit nicely with the team.
"I like to improve and get better, work hard, and see results," Zac says.
Zac joins an impressive band of tennis brethren, including new recruits Michael Browder (ranked sixth in Georgia) and Carson Kadi (two in Lousiana).
Coach Baker and his carefully chosen picks have led to Samford being named by TennisRecruiting.net 16th among mid-major programs in recruitment.