Tournament Preview
Eddie Herr: The Junior Tennis World Converges on Bradenton
by
Colette Lewis
, 28 November 2008
Sixteen different tournaments - boys and girls, 12s, 14s, 16s and 18s, singles and doubles - all taking place simultaneously on one piece of very famous property, the IMG/Nick Bolliettieri Tennis Academy, puts the Eddie Herr near the top of junior tennis competitions.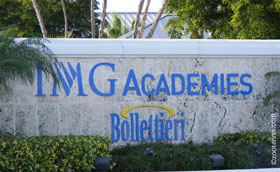 Whether it's to catch the eye of a racquet or clothing rep, perhaps even Nick himself, or to test their games against the best in the world, more than a thousand players make their way to Bradenton Fla. every November to compete in the tournament founded in 1987 by the father of junior tennis, the late Eddie Herr.
Now directed by Rick Workman, the Eddie Herr is a Grade 1 level event for the International Tennis Federation's 18-and-under competition, with players of all ages hoping to follow in the footsteps of such past champions as Jelena Jankovic, Maria Sharapova, Ana Ivanovic, Andy Roddick and David Nalbandian.
12s
Last year the 12s finals were the property of the U.S., with Madison Keys defeating Florida rival Sachia Vickery and California's Joseph Di Giulio downing Roy Lederman of Florida.
Trying to give the U.S. its fourth straight boys champion will be a group including Daniel Kerznerman of New York, a quarterfinalist last year, Timothy Kane, also of New York, along with Stefan Kozlov, Paul Tyagi and David Crisovan of Florida. Washington's Toshiki Matsuya, No. 1 in the USTA 12s rankings, joins Southern California sectional 12s champion Deiton Baughman and Virginia's Carter Lin as other U.S. players to watch.