Tournament Summary
Laurente and Fratangelo Earn Tennis Plaza Cup Championships
by
Colette Lewis
, 22 January 2009
The 2009 Tennis Plaza Cup, a USTA Level 3 event in its third year on the national junior schedule, saw considerably more sunshine than the 2008 version, and it shone brightly on two young unseeded champions in the 18s division, played on the green clay courts of Coral Gables, Florida's Salvadore Park.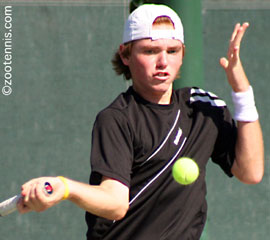 Fourteen-year-old
Kelsey Laurente
of Miramar, Florida defeated unseeded 17-year-old
Mary Clayton
of Plantation 6-4, 6-4 to take her first national title in the 18s, with 15-year-old
Bjorn Fratangelo
of Pittsburgh, Pennsylvania downing third seed
Andrew Butz
of Vero Beach 6-7(1), 7-6(5), 6-2 to capture the boys championship.
On the first two days of the 32-draw three-day event, there were no third sets, with match tiebreakers instead, and Laurente used one to oust No. 2 seed Maria Belaya in the quarterfinals. Fratangelo won his four matches in straight sets, but it was the 16-year-old Butz who had the most notable second day, taking out both Spencer Newman and Jeremy Efferding with an impressive display of power tennis centered around his first serve.
But in the final, which was played under the traditional scoring rules, Butz's primary weapon was erratic, allowing Fratangelo to take late leads in both sets. Fratangelo, however, was unable to convert on a set point in the opener, with his backhand going awry in the tiebreaker, and he also failed to hold a 5-2 lead in the second set.
Needing to win that tiebreaker to advance, Fratangelo stayed calm, and this time it was Butz's backhand errors that extended the match.
Fratangelo got a break in the opening game of the third set, and Butz, deflated, was down 4-0 in a matter of minutes. Butz did manage to hold serve twice in the final set, but appeared to be resigned to his loss as the remaining games played out.