News & Features
Recruiting Feature
Countdown: Boys' War Room
by Julie Wrege, 30 March 2009
The big news in college athletics is the dominance of the Big East in NCAA March Madness. Next weekend's Final Four will mark the end of months of hard work for several teams of college basketball players. But for many high school seniors around the country, the culmination of the spring recruiting season comes on April 8th - Signing Day.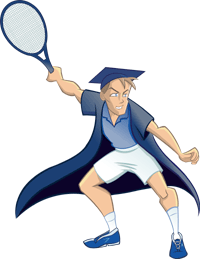 Signing Day is just a little over a week away, and seniors and coaches alike are scrambling to fit in last-minute visits and finalize decisions.
Over the past few weeks, TennisRecruiting.net has talked to the Top 100 senior boys and girls on the Class Rankings. Last week, we saw the girls' status. Today, we take a look at where the boys are in their decision-making process.
Status for the Top 100 (as of March 20)
The table below shows the Top 100 athletes and their recruiting status. The Commitment column shows whether the recruit has made a commitment or is undecided, while the Interests column indicates schools of interest.