Commitment Announcement
Spring Signing Week '09: Phillips Joins New Mexico's Lobos
by
Colette Lewis
, 9 April 2009
Blue chip senior Jadon Phillips knows that life has a way of defying expectations.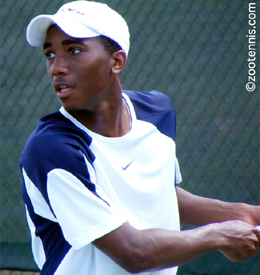 As a seven-year-old, Phillips played baseball and ran track, believing those sports would be his athletic future. But his mother put a racquet in his hand, and suddenly he had found a new love in tennis.
Fast-forward ten years, when the Macon (Ga.) Central High School senior was contemplating his college choice. Fully expecting to stay in the South, perhaps attending Georgia Tech, Phillips took a recruiting visit to the University of New Mexico in January, and despite initial doubts, is excited to announce he's heading west to Albuquerque to join coach Alan Dils's team this fall.
"When I went to visit New Mexico, I was in a bad mood," says Phillips, recalling what was going through his mind at the time. "I don't want to be here, and I don't know anything about New Mexico. But I started talking to the assistant coach (former Lobo Bart Scott), looked at the campus and I really loved it."
Phillips also visited and considered Michigan State, when Georgia Tech's curriculum offerings didn't match his academic interests, but New Mexico had an edge in climate.
"I loved it at Michigan State, too," Phillips says. "It was a tough decision, but with the weather, New Mexico was the best decision.
"What surprised me was the diversity, the many different cultures. I thought it would be desert, not much to do, but actually it's a large city, with nice people. The team, it felt like they were my family after just two days."