Tournament Summary
King and McHale Win 2009 Easter Bowl ITF Titles
Mkrtchian and Hardebeck Win 16s Titles
Price and Vinsant Claims 16s, Austin and McDonald Take 14s
by
Colette Lewis
, 23 April 2009
It was cool; it was hot; it was breezy; it was calm; it was dramatic; it was routine. The 2009 Easter Bowl had a bit of everything last week at the Rancho Las Palmas Resort and Spa in Rancho Mirage, California.
And when the last ball had been struck Sunday, there were both veterans and rookies earning the coveted spring titles.
ITF
No. 4 seed Evan King had reached the finals the week before at the ITF Grade 1 International Spring Championships in Carson, Calif., and that form held up throughout the ITF Grade B1 Easter Bowl. King, a Chicagoan who now lives at the USTA National Training Center in Boca Raton, lost only one set all week, to unseeded Raymond Sarmiento, before claiming a 4-6, 6-2, 6-1 victory in the semifinals. Sarmiento had posted one of the tournament's most dramatic wins when he took out top seed Denis Kudla in a third-set tiebreaker in the opening round.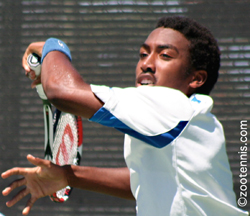 King's opponent in the final was a familiar one: No. 2 seed
Tennys Sandgren
. King and Sandgren had recently traveled to Brazil together for ITF junior events there and upon returning to the U.S. had met in the semifinals in Carson, with King earning a hard-fought victory in three sets. A similar battle was expected on a scorching Sunday in the desert, but it never developed, with King cruising to a 6-2, 6-2 win.
"He definitely played a lot better last week," said King, who won the Easter Bowl 14s title in 2006. "Maybe the heat affected him a little bit more than it did me, and I know his knee has been bugging him a little bit, so I don't know if that was a hundred percent. Tennys is a great player, and he'll definitely be back."
King's serve was especially effective in the final, and he was adept at using his frequent first serves to stake out an advantage.
"When I made a lot of first serves, I got shorter replies," the 17-year-old left-hander said. "Whereas with second serves, the points were grindy, long. Tennys is really good at taking advantage of weaker replies. I've been serving well all week. I've barely gotten broken all week, and I think it was definitely a factor in my win today."
Sandgren acknowledged that all the tennis he's played in the past four weeks had caught up with him, but he gave King credit for absorbing the best he had to offer.
"I hit some really strong balls, and he would just take them early and hit them back really deep," said the 17-year-old from Gallatin, Tenn. "He played well and served well."