College Feature
Buckeyes Subdue Illini Again for Fourth Consecutive Big Ten Men's Title
by
Colette Lewis
, 30 April 2009
For the sixth straight year the Big Ten Men's Conference Championship came down to Ohio State and Illinois. The first of those two finals, in 2004 and 2005, went to the Fighting Illini, but the past three had belonged to the Buckeyes, and the country's third-ranked team was a decided favorite in Sunday's contest, held at the University of Michigan Varsity Tennis Center in Ann Arbor.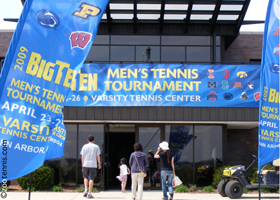 Illinois, ranked 14th, had lost 6-1 to Ohio State in Champaign just two weeks ago, but a dominating 5-0 win against
Indiana
in Saturday's conference tournament semifinal gave the Orange and Blue faithful hope. The sixth-seeded Hoosiers had knocked out No. 3
Minnesota
in the quarterfinals to post the tournament's sole upset, but they were unable to mount a challenge to the Fighting Illini in a match moved indoors due to afternoon thunderstorms.
The Buckeyes, who had downed the fourth-seeded host team 4-1 in blustery conditions Saturday morning, struggled a bit in closing out the Wolverines, who came back to force third sets in three matches after trailing by a set in five of the six singles. Could Illinois strike early and ride that momentum to an upset?
The answer to that question was yes and no. Illinois took a tense and seesaw doubles point, but lost the first set in all six singles matches, and the Buckeyes strolled to a 4-1 win.
"We don't play great doubles," admitted Ohio State coach Ty Tucker, who got an 8-4 win from his No. 3 team of Bryan Koniecko and Shuhei Uzawa over Meedo El Tabakh and Roy Kalmanovich, but saw his No. 2 team of Matt Allare and Chase Buchanan and No. 1 team of Justin Kronauge and Steven Moneke drop 8-6 decisions to Illinois's Marek Czerwinski and Marc Spicijaric and Dennis Nevolo and Ruan Roelofse respectively. "They played damned good doubles, and Dennis Nevolo is probably one of the five best doubles players in the country as a freshman."