Special from
Division III Tennis
Division 3 becomes stronger every year with increasingly better recruiting classes and tougher practice schedules. But even with the newly added depth of the past few years, the same teams are able to remain at the top of D3 tennis. Starting today, the D3 community will turn its eyes to the D3 National Championships from the Biszantz Family Tennis Center in Claremont, California. This newly-built facility rivals a top 50 D1 facility and is the nicest tennis facility that D3 has to offer.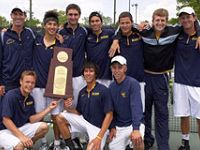 Of the eight teams who made the finals last year, six are returning, including finalists
Wash U
and
Emory
who have looked to be on a collision course all year for the national championship. Before they are able to play in the finals, both teams must take on stern tests from some excellent competition.
Emory takes on Kenyon in the first round. Kenyon boasts the defending national singles champion as well as a new #2 player who's one of the best in the country. The Lords barely snuck out of their regional final in an epic win so they will feel lucky to be here and I think they won't have enough depth to take on Emory. The Eagles from Atlanta are the most talented team in the country and will be very tough to beat.
The trendy pick to win the tournament is UC Santa Cruz. This is a very well-coached team, but most importantly, their top five players are all seniors who are hungry for a national championship. They take on a young Williams team who has had an up and down season. Williams should be in a little over their heads against Cruz this year. I think Santa Cruz against Emory in the semis could be the marquee match of the tournament.