College Feature
Duke Women and Southern Cal Men Claim NCAA Titles in College Station
by
Colette Lewis
, 21 May 2009
It was the first for the Duke women, and either the fifth or the 17th for the Southern Californian men, but regardless of the number, NCAA championships are always the highlight of a collegiate career. Duke claimed theirs with a 4-0 blanking of California-Berkeley Tuesday evening, while USC downed Ohio State 4-1 in the afternoon contest at the George Mitchell Tennis Center on the campus of Texas A&M University.
MEN'S CHAMPIONSHIP
There's something about the Mitchell Center that agrees with USC men's tennis program. The site of its last title, in 2002, the eighth-seeded Trojans hit their stride in Texas, handing the third-seeded Buckeyes only their second defeat of the year.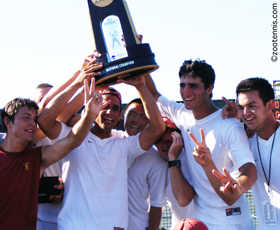 "Prakash Amritraj facebooked me this morning and said, 'let's do it, let's do it,' USC Coach Peter Smith said of the player who had clinched the Trojans' title in 2002, coach Dick Leach's last year. "The last time USC won it, I was being offered the job... to be back here seven years later on the court, it's surreal."
The Trojans captured the doubles point at No. 3 when Matt Kecki and Jaak Poldma defeated Steven Moneke and Chase Buchanan, breaking Moneke at 7-8. Ohio State had taken the No. 2 doubles position with Bryan Koniecko and Shuhei Uzawa downing Abdullah Magdas and Daniel Nguyen 8-4, while Robert Farah and Steve Johnson had claimed the No. 1 singles over Buckeyes Justin Kronauge and Matt Allare 8-3.
Allare, who had turned his ankle in the last game of his match against UCLA in Monday's semifinal, wasn't obviously hobbled, but Magdas led all the way in their match at No. 4, recording a 6-2, 6-3 victory and giving USC a 2-0 lead. Daniel Nguyen of USC easily won the battle of the freshmen at No. 6, taking out Chase Buchanan 6-0, 6-2 to make it 3-0 USC, but Ohio State had won first sets at No. 1, No. 3 and No. 5 to give the Buckeye faithful some hope. Trojan Steve Johnson had taken the first set from Steven Moneke in a tiebreaker at No. 2, and was up a break on a couple of occasions in the second set, but couldn't hold that advantage.