Recruiting Feature
2010 Top Mid-Major Men's Classes
by TennisRecruiting.net, 4 June 2010
Tennis is one of the most popular college sports around. There are almost 2,500 programs across the country playing intercollegiate tennis at some level.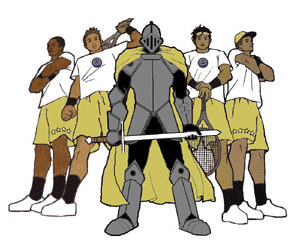 Today we take a look at the top college recruiting classes from the "mid-major" programs - programs outside of the so-called "high-major" conferences that are slotted into BCS football bowl games.
Many mid-major schools compete at a very high level. In Division I post-season play, mid-major teams posted eight match wins in the 2010 NCAA team tournament, and mid-major schools have won national titles in the singles, doubles, and team events.
We can also talk about many quality teams in Division II, Division III, NAIA, NJCAA, and CCC - teams that compete for national titles every year.
Top 25 Mid-Major Men's Recruiting Classes (through May 20)
Today, the Tennis Recruiting Network is excited to present the Top 25 Mid-Major Men's Recruiting Classes for 2010.
The mid-major rankings include all colleges in all divisions except for those in the "high-major conferences". The high-major conferences for tennis include schools affiliated with Bowl Championship Series conferences - the ACC, Big East, Big 10, Big 12, Pac 10, and SEC - as well as the Ivy League.
As is our policy, in these rankings we did not consider incoming transfer students.
So here they are - the Top 25...
Also Receiving Consideration
We reviewed the resumes for more than 50 teams for these rankings. Teams that received strong consideration and almost made our list are (alphabetically) as follows: Boston University, CMS, Duquesne, Florida Atlantic, George Washington, Johns Hopkins, Hawaii, and SMU.
Head of the Class
The U.S. Military Academy has been getting a lot of press at TennisRecruiting.net lately. And with their recruiting class, why not? The Black Knights show up at No. 1 on our list - following up their #13 showing on our list of top classes overall. You can read about Army's recruiting class in this Countdown to Signing Day feature article.
A pair of teams from the West Coast Conference - San Diego and Santa Clara - check in at No. 2 and No. 3, respectively. Each team was able to attract a Blue Chip recruit to its roster for next year.
Georgia State and Central Florida round out the top 5.
State Breakdowns
The 25 schools in this rank list represent 13 different states and 15 different conferences.
As usual, California leads the way. There are four programs from the Golden State in our Top 25. In addition to San Diego and Santa Clara at the top of the rankings, we also see UC Santa Barbara (No. 16) and Loyola Marymount (No. 19).
The southern states of Georgia and North Carolina each have three programs in the rankings, while Massachusetts, New York, Ohio, and Utah all have two.
Conference Call
Three conferences each have three programs in the rankings: the Colonial Athletic Association, Mountain West Conference, and West Coast Conference.
Also notable are five conferences from outside NCAA Division I. The powerful (and somewhat wordy) New England Small College Athletic Conference - or NESCAC - has two programs in the rankings: Middlebury (the 2010 NCAA Division III national champions) and Amherst (the 2010 NCAA D3 runner-up). Another Division III conference - the University Athletic Association - also has two programs.
The Liberty League and NEWMAC each feature one program in the rankings, and the Savannah College of Art and Design in Atlanta is the lone NAIA school on the list.
Women's List Comes Monday
You only have a weekend to wait for the women's list. This coming Monday, TennisRecruiting.net will release its ranking of the top 25 women's mid-major recruiting classes. Shortly afterwards, we will wrap up this ranking season with our lists of the top NCAA Division III programs.
Leave a Comment
More Recruiting Class Rankings
6-Feb-2023
Top Women's Classes - 2023 Winter Rankings
The size of our commitment list is pushing 500 for the senior girls. With that in mind, today is a great time to check in on how schools are doing on the recruiting trail. Today, the Tennis Recruiting Network is proud to announce the Top 25 Women's Recruiting Classes for 2023.
30-Jan-2023
Top Men's Classes - 2023 Winter Rankings
As January comes to a close and the spring semester gets into full swing, today is a great time to take a look at the top college tennis recruiting classes. TRN is excited to present its 2023 Men's Recruiting Class Rankings - including the Top Dawgs ...
24-Jun-2022
2022 Top NCAA D-III Women's Classes
TRN wraps up three weeks of recruiting class rankings with a look at Division III. Our final list of the season shows the Top 25 NCAA Division III recruiting classes.