Tournament Summary
International Grass Courts Veteran Sarmiento and Rookie Davis Claim Titles in Philadelphia
by
Colette Lewis
, 18 June 2009
As much as any U.S. junior could be said to be comfortable on grass, with only one tournament in the country played on that surface, Raymond Sarmiento would fit that description. Last week the 16-year-old Californian made his third appearance at the ITF Grade 3 International Grass Court Championships, earning his second and third titles at the Philadelphia Cricket Club. He and partner Nathan Pasha won the doubles title last Friday, to defend the 2008 crown he captured with Jordan Cox, and on Saturday the fourth seed defeated qualifier Michael Zhu 6-2, 6-3 to sweep the boys titles.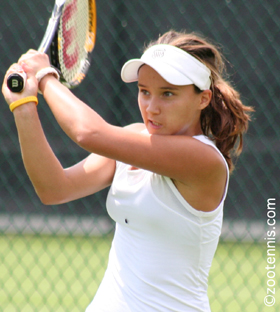 Fifteen-year-old
Lauren Davis
proved that while experience on grass may be advantageous, it's not necessary, as the qualifier from Ohio, playing in only her third ITF-sanctioned event, earned the girls title by downing top seed
Brooke Bolender
6-2, 3-6, 6-2.
In addition to the quirky bounces and unfamiliar swing patterns of grass court tennis, the competitors also faced a challenge familiar to any Wimbledon participant - rain. Showers threatened all week, and materialized often enough to delay the start of play several times, including Saturday's singles finals.
The girls final was the only match actually disrupted by rain, and for Davis, the delay couldn't have come at a worse time. The self-described "ground stroke" player had just taken the first set with nearly flawless execution of all her shots, including volleys, while the more experienced Bolender couldn't shake her nervousness.
When the pair returned to the court after an hour and twenty minute wait, Bolender lost the first game of the second set, but she immediately broke Davis, and raising the level of her game dramatically, took the second set by winning five of the last six games.