College Commitments
Texas and Texas A&M Recruiting Classes
by
Granger Huntress
, 10 July 2009
When it comes to college tennis in Texas, there are plenty of solid men's programs within the state. Texas has reached the semifinals in three of the last four years, including the championship match in 2008, while Baylor won it all in 2004 and lost in the finals in 2005. Texas A&M is on the rise, reaching the Sweet 16 this season. Rice, TCU and Texas A&M-Corpus Christi are always in the tournament.
This past recruiting season saw Texas (#3) and Texas A&M (#18) with recruiting classes in the top 20. How good are these classes?
Let's take a look at these teams and the impact they should expect from their new classes.
Texas
The Texas Longhorns, coached by Michael Center, proved once again they are a team that can contend for a national title. Falling 4-2 to eventual champion USC this spring, the Longhorns' recruiting class could give them the depth to once again challenge for a title.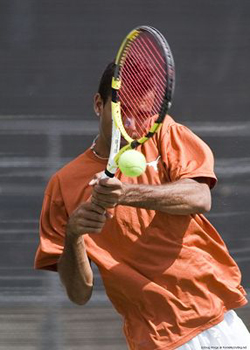 The
Longhorns
welcome a strong class in '09
© Doug Wrege, TennisRecruiting.net
The Longhorns will welcome
Vasil Mladenov
(Sophia, Bulgaria),
Chris Camillone
(Austin),
Daniel Whitehead
(Houston) and
Ben Chen
(Houston) to campus in the fall, with
David Holiner
(Dallas) joining the team in January.
"This is a really good class," says coach Center. "Mladenov headlines it with his experience and he will have an immediate impact. For the others, it depends on the next six months who gets stronger, but they can all impact us somehow."
Mladenov, who will be 20 by the time school starts in the fall, is currently ranked in the top-850 in the world and has won three doubles Futures in the past year. That should provide some interesting options for the Longhorns, who return an already strong group of doubles teams at lines 1 and 2.
Where the Bulgarian will play singles is still a question, but if they can slot him into the top-3, then that would likely move Ed Corrie into an almost unbeatable spot at four.
Most would expect Holiner to be the next of this class to be able to crack the lineup immediately upon setting foot on the 40 Acres, but he has been hobbled with back problems and has not played for the last six months. It may take some time for him to get into playing shape, although he looked good at the Summer Grand Slam, and his aggressive style is suited for the college game.