Special Feature
The Man Behind the Texas College Tennis Blog
by
Colette Lewis
, 23 July 2009
Last spring, tennis bloggers welcomed a new website and a new voice in college tennis world. During its first year of existence, the Texas College Tennis blog had neither a name nor face attached to it. But at the NCAAs in College Station, I met its creator, Granger Huntress, and he agreed to answer the many questions I had about his connection with college tennis in Texas and his decision to start a blog dedicated to it.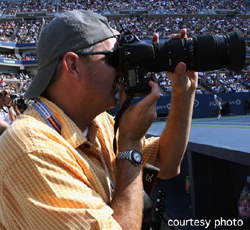 Granger Huntress behind the camera
Huntress is currently the Communications/Information Technology manager for the
USTA Texas section
, a position he's held for six years. His ties to college tennis go back to his childhood, when he lived a block from San Antonio's Trinity University, an NCAA Division I powerhouse now competing in Division III. Huntress, who lives in Austin with his wife and two young sons, has an economics degree from the University of Texas and has managed mutual funds, taught middle school math, worked in sports marketing and as a collegiate SID prior to joining the Texas section. He played tennis at the Colorado School of Mines for one year prior to transferring to Texas.
Questions and Answers
Q. What prompted you to start a blog?
A. Well, I am a big fan of all college sports in general, but tennis is very close to me. I am also fairly opinionated. I have a very good friend who is involved with college tennis and we had been talking a lot.
I have this habit every afternoon of taking a break from work and walking down the street to get a sugar free Red Bull and clearing my head. One Friday back in 2008, while on this walk, I got the idea to do the blog. When I got back to the office, I bought the domain name. I have my own virtual server space and plenty of photos, so by Saturday evening I had the site running and had started dropping e-mails to every SID in the state.
Q. What is your connection with tennis in Texas?
A. Well, first off, I played as a junior then as an adult and most recently as a senior (over 35). I was a ranked junior back in the late '70s, early '80s in Texas. Later in life I started playing competitively in age groups. Five years ago, at the age of 39, I was the top-ranked player in men's 35s in the section. That doesn't mean I was the best, but the top-ranked.
Q. Why did you decide to reveal your identity?
A. Too many people were starting to find out, and I just wanted to come clean. I hated keeping it a secret, but thought it might be best while I got started.