Nationals Feature
Alex Domijan and Jack Sock Top Seeds for USTA Boys 18 and 16 National Championships in Kalamazoo
by
Colette Lewis
, 6 August 2009
For generations, Kalamazoo has welcomed the nation's top junior boys, who converge on the courts of Kalamazoo College and Western Michigan University not only for a chance to compete against the best in a pressure-packed setting, but also for the festival of junior tennis the tournament has become.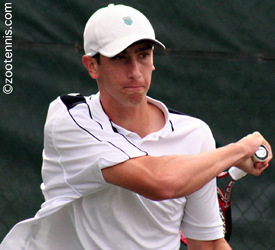 Whether it's the banners, the flowers, the hand-lettered draw board, the crowds, the ball runners, the parties or the legendary blueberries and cream, every player, coach and family member has a favorite reason for converging on the "Nats at the Zoo."
Ultimately, it's the tennis that takes center stage, however, with 18s top seed Alex Domijan and 16s top seed Jack Sock expected to assume starring roles this year, the tournament's 67th.
Domijan, a Wesley Chapel, Fla. resident who turns 18 next month, was seeded fourth last year in Kalamazoo, but fell in the fifth round to No. 12 seed Rhyne Williams. In the 12 months since, Domijan, a 6-foot-6 right-hander, has won two major ITF Junior tournaments, the Pan-American in Tulsa and the prestigious Eddie Herr in Bradenton, and with a recent quarterfinal showing in the Wimbledon Junior Championships, his ITF junior ranking is 17.
On his return from Wimbledon, Domijan played against a variety of veteran professionals in World Team Tennis, competing in singles and doubles for the USTA's amateur team, the New York Buzz. In his first Pro Circuit event of the summer last week, Domijan reached the final in the $10,000 Godfrey, Ill. Futures, winning the first set from Matt Reid of Australia before retiring with cramps late in the second. He withdrew from the ATP Legg Mason Tennis Championships this week, where he was a recipient of a main draw wild card, but he is expected to be ready for a run at the Kalamazoo title and the US Open main draw wild card that goes with it.