Nationals Feature
Carter Earns Title in Girls' 14 Nationals
by Todd Holcomb, 19 August 2009
Two broken strings didn't decide who won the USTA Girls 14 Nationals in Peachtree City, Ga., on Aug. 15.
But it was certainly a turning point.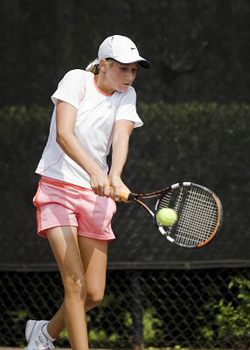 Girls 14 Champion
Hayley Carter
© Doug Wrege, TennisRecruiting.net
Christina Makarova
of San Diego led
Hayley Carter
of Hilton Head, S.C., 4-3 in the singles final when her first racket string broke. Makarova was serving at 5-4, 30-15 when she broke a string on her replacement racket.
There were no more good rackets in her bag, so Makarova - two points from the first set - went searching for a demo at a local pro shop, was penalized a game for leaving the court for too long and won only one more game in the match.
Carter, a No. 17 seed, prevailed 7-5, 6-1.
"I think it helped a little," said Carter, who claimed her fifth singles national title, counting three won in Little Mo Nationals at ages 8, 9 and 10. "It changed the momentum. I started playing better after she switched the rackets, and she started playing worse."
Makarova said she couldn't get used to the demo, which was a Babolat. She is sponsored by Head.
"That was extremely frustrating," Makarova said. "I just needed two more points and I would've won the first set. Then the last racket goes poof. It just breaks. That's never happened to me before."
But Makarova, who upset No. 1 seed Jamie Loeb of New York 7-5, 3-6, 7-5 in the quarterfinals, said her main problem was Carter, who out-steadied her from the baseline as the match wore on.