College Feature
Questions and Answers with Mallory Cecil
by Dan Tierney, 1 September 2009
For Mallory Cecil, it's already been a year of nearly unbelievable accomplishments, yet she still has time to add another chapter or two. As a first-semester freshman at Duke University, Cecil helped the team win the NCAA women's title in May and followed it by winning the NCAA women's singles championship without dropping a set less than a week later.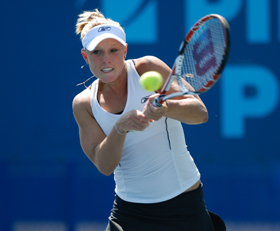 NCAA Team and Singles Champion Mallory Cecil
courtesy,
Getty Images
Cecil, who spent around five years training at the
IMG Bollettieri Tennis Academy
, also received a wildcard for the main draw of the U.S. Open. [Watch her match today against Tathiana Garbin of Italy - that match is scheduled as the second one on
Court 8
.] In between training sessions at IMG Academies, Cecil answered some questions about the recruiting process, her time at Duke, and the U.S. Open.
Questions and Answers
Dan Tierney: What was the recruiting experience like for you?
Mallory Cecil: My recruiting process was very quick. I visited six different schools in three months. The positives were that I got to see a bunch of different types of schools in a short period of time, so I became more confident in knowing what I was looking for very quickly. It was also easier to compare the schools when things were fresh on my mind.
I did enjoy the whole experience of seeing the campuses, meeting the different coaches and hanging with the girls on the different teams. The only negative was the travel to visit the schools, when I was still traveling to play tournaments. In hindsight, I would focus on the decision, and not be playing too many tournaments.
DT: Why did you choose Duke over all of the schools recruiting you?
MC: Duke had all of the criteria that I was looking for in a school and an athletic program. However, it was the girls on the team that sealed the deal for me. I instantly felt a connection with them and knew they were a group of girls that I would love to play with them and for them. Your team pretty much becomes your family with how much time you all spend together with practice, travel, and off-court activities.
I was looking for a school that was top 10 both academically and athletically. When I was walking on the campus with my mom, I told her that I could totally see myself walking around this campus on a daily basis. Duke's campus is absolutely gorgeous, and the facilities are top notch. It was definitely the place for me.