Recruiting Profile
Capra Considers Options While Enjoying Junior Grand Slam Success
by
Colette Lewis
, 24 September 2009
Blue chip senior Beatrice Capra loves to write, keeping a journal of her experiences as she travels the tennis circuit. This summer, the class of 2010's third-ranked player reached the final 16 in all three junior slams, concluding with a quarterfinal appearance at the U.S. Open. With that kind of success, writer's block isn't likely, and she provided some of her impressions during a recent interview.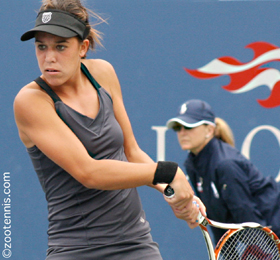 Wimbledon, where she also reached the semifinals in doubles, was like "playing in a dream," she said. "The flowers everywhere, playing on grass courts, everybody's dressed nice, it was unbelievable."
At Roland Garros, the surface was the highlight for the Ellicott City, Md. resident. "I really like clay, and all the Americans went, so that was fun. And it's not old exactly, but historic, I guess."
Flushing Meadows highlights included a third round match on Louis Armstrong Stadium and a chance to watch her contemporary, Melanie Oudin, capture the imagination of tennis fans around the world.
"Last year I played her at Carson, and this year she's probably going to be Top 30 in the world," Capra marveled. "She really does inspire me, and I'm so happy for her. She totally deserves it."
Although Capra plans to play the junior slams next year, her focus now shifts to a difficult decision - whether to follow Oudin's path, or that of Capra's mother Laurie, a two-time All-American at the University of South Florida.
"I'm definitely keeping college open," said Capra, who is known as Trice (tree-see) to her family and friends. "Right now I'm looking at Duke mostly."
Capra isn't likely to make any decisions this fall. Now 18th in the ITF junior world rankings and No. 2 in the USTA 18s division, the 17-year-old is concentrating on professional tournaments for the remainder of the year, although she may play the Orange Bowl in December.