College Commitment
Countdown: Ann Arbor Welcomes Bolender
by Joshua Rey, 28 October 2009
Brooke Bolender will be playing tennis at the University of Michigan next fall, but her chances of becoming a Wolverine nearly slipped through her fingers in May, literally. Playing against No. 1 seed Petra Rampre in the second round of an ITF Women's Circuit qualifying draw, Bolender experienced an embarrassing moment in an important setting.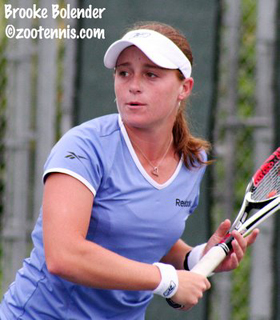 "It was 3-all in the first and I hit a serve and the racket fell out of my hand," Bolender recalled in an E-mail interview. "The return came right to me so I just hit it back with my hand. It just so happened that my future college coach, Ronni Bernstein, had come to watch me, so her and a whole lot more people saw me do this. Then, on the next point, I went back to hit a forehand and slipped and almost completely fell on my face!"
With her racquet and her feet betraying her on the Florida clay, Bolender dropped her serve and the set. She could have succumbed to the feeling that this simply wasn't her day, but Bolender is a fiery competitor. The 17-year-old rebounded for a 3-6, 6-1, 6-2 victory and went on to qualify for her first $50,000 main draw.
Perhaps more importantly, Bernstein must have returned to Ann Arbor impressed.
"I'm pretty sure she liked what she saw," Bolender said. "That was actually one of my best matches, so it was good timing."
Bolender's commitment to Michigan comes as no surprise to those familiar with her bloodline. One of 10 children, she has three older brothers who played collegiate football (B.J.: Iowa, Jonathan: Kent State and Josh: Capital)
The 5'4" Bolender is furthering her family's athletic success thanks to a fighting spirit that complements her all-court game. She left Ohio at the age of 13 to begin training at the Evert Tennis Academy in Boca Raton, Florida, and has enjoyed a steady rise in the rankings ever since.