College Commitment
Countdown: Shane chooses Cavaliers
by Sonny Dearth, 21 October 2009
Special from the
Newport News (Va.) Daily Press, HRVarsity.com
Justin Shane enjoyed seeing a tall, slender young man named Juan Martin del Potro make his big breakthrough at the U.S. Open.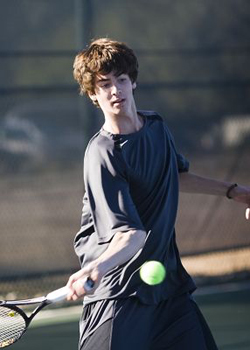 Shane, a tall, slender young man from Falls Church, Va., hopes his big breakthrough will come with the
University of Virginia
Cavaliers.
Shane, a blue-chip recruit who is ranked first in the Mid-Atlantic Section and sixth nationally among the Class of 2010 by the Tennis Recruiting Network, recently committed to UVa - a school that has spent plenty of time ranked No. 1 in the nation in recent years but still is seeking its first NCAA team championship.
With such impressive credentials, Shane had plenty of college options. He chose to stay in his home state, within easy driving distance for his family and friends to see him compete for highly regarded coach Brian Boland's program.
"I like the campus, really like the team, really like the coaches," Shane said. "It's a great team to practice with. You can get a lot better."
But tennis wasn't the primary factor Shane cited in his choice.
"It pretty much came down to academics, and I like the UVa environment a little bit better," he said. "I was looking at Ohio State and Duke and a little bit at Illinois. The Ohio State program was great, too."
Shane said on a visit to Charlottesville, he saw the Cavaliers beat Atlantic Coast Conference rivals N.C. State and North Carolina. UVa has a 45-match dual winning streak against rivals in the ACC, one of the nation's best conferences.
"I've played some men's opens there, and the environment was still really good."