College Commitment
Countdown: Cheung Calls Irvine Home
by Rhiannon Potkey, 27 October 2009
The goal of every major college coach is to keep talented local recruits in their own backyard.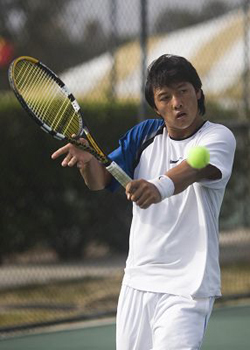 For
Ryan Cheung
, that is literally almost the case at the
University of California, Irvine
.
Cheung lives only about five minutes away from the UCI campus.
The close proximity was a deciding factor in Cheung verbally committed to play tennis for the Anteaters.
"It is a great area and I know a lot of the guys on the team," Cheung said. "I just thought it was the best fit overall for me."
Unlike some teenagers, Cheung isn't itching to exert his independence by venturing far from home.
The 18-year-old took the reverse path of most kids his age. Cheung traveled alone extensively when he was younger while representing Hong Kong in tournaments.
Cheung is now eager to spend more time with his father, and he believes living in the dorms will provide enough space to still get the full college experience.
His father, Thomas, is a big advocate of the plan.
"I think it is the best choice for him to make, and it was a decision he made himself after he went to visit the campus," his father said. "For me, it is exciting that I can see him perform for four more years."