Tournament Summary
Bouchard and Bangoura Emerge as Pan-American Champions in Damp and Chilly Tulsa
by
Colette Lewis
, 22 October 2009
The weather in Oklahoma felt more like December than October, but for Eugenie Bouchard and Sekou Bangoura Jr. there were no gifts, nothing to suggest a festive holiday. Instead, there were long days waiting for an indoor court, grueling matches and frustrating moments. Yet both handled every challenge last week, claiming their first ITF Grade 1 titles at the University of Tulsa's Michael D. Case Tennis Center.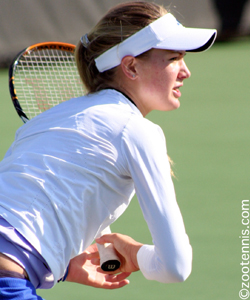 When the eighth-seeded Bouchard defeated No. 7 seed
Ester Goldfeld
6-7(7), 6-3, 7-6(4) in a three-and-a-half-hour final, it was a fitting culmination to a trying week.
"I think it's from the crazy amount I've played this week," Bouchard said, gesturing to her wrapped left thigh. "I played three matches twice in two days. It's a strain in my hamstring; I look a little wounded here. But I feel great now, I don't feel any injuries, I feel perfect."
With top seeds Beatrice Capra and Madison Keys making early exits, Bouchard was one of only four seeds to reach the quarterfinals, although the 15-year-old Canadian needed three sets in five of her six wins. After another marathon battle against No. 5 seed Monica Puig in the semifinals, Bouchard was at a disadvantage against Goldfeld, who had breezed past No. 4 seed Katarena Paliivets of Canada 6-0, 6-1.
In the final, Goldfeld took the 90-minute opening set, battling back from a 4-1 deficit. Bouchard took another early lead in the second set, but it was an hour later before she finally evened the match.
The third set was all Bouchard, with Goldfeld, who had played consistently smart and varied shots in the opening two sets, making error after error. But when Bouchard hit a forehand return winner to break Goldfeld and take a 5-1 lead, the drama was just beginning.
"At 1-5, I just told myself I didn't care, and all of a sudden, I started coming back, went with the flow," said Goldfeld, 16. "I just started to get a couple of more balls in, and she started tightening up. I saw that and took advantage of it."