Commitment Announcement
Fall Signing Week '09: Cercone Stays in Home State, Signs with Gators
by
Colette Lewis
, 11 November 2009
Back when she was playing zonals and intersectionals, Alexandra Cercone loved the team atmosphere at those junior competitions. She treasured the bonds formed by the team t-shirts and the well-rehearsed cheers, enjoyed the face painting and the sign making that were part of representing the Florida section. And although college tennis may mean bigger audiences for that team spirit, her decision to sign a National Letter of Intent to join the University of Florida in 2010 will keep that Florida pride in full view.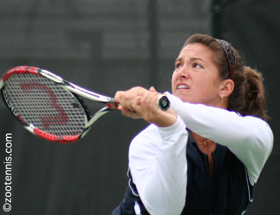 "I've lived in Florida my whole life, and I'm really proud to represent Florida," says Cercone, who resides in Seminole. "I figured I still wanted to be a Florida girl; I don't want that to change."
Yet the decision to sign with the Florida Gators wasn't an easy one for the Tennis Recruiting Network's fourth-ranked prospect from the class of 2010.
"People had told me once you take your visits you'll know for sure where you want to go, but I had no idea," Cercone recalls. "When I took my visits, honestly, I just got more confused. I took a week to think about it, prioritize everything, figure out what was important to me."
In addition to Florida, Cercone visited Vanderbilt, Georgia Tech and Virginia, meeting academic advisors, strength and conditioning coaches, trainers, team members and coaches. She watched team practices, spent time touring the campuses, even took the opportunity to go rock climbing at Vanderbilt and attend a soccer game at Virginia.
One factor in Cercone's decision was that longtime friend and fellow Floridian Lauren Embree had chosen the Gators for her collegiate career, and Allie Will, of Boca Raton, Fla., had also started classes this fall in Gainesville.
"Lauren was the biggest influence, because obviously we're really close and we would talk a lot. She would tell me how great everything is there, but she was really honest about it," says Cercone, who turns 18 later this month. "I don't know Allie as well, but she seemed to love it and they were projecting onto me that Florida was the place that I wanted to be."