College Feature
Conversation with Providence Coach Kyle LaBranche
by
Harry Cicma
, 23 November 2009
Special from
NBC.com
There is a family dynasty in the Tennis Department at Providence College. After Carl LaBranche led the men's and women's teams for more than a decade; his son, Kyle, has taken over as the new women's tennis head coach.
Kyle is one of the hot young prospects in the world of Division 1 coaching, and Harry Cicma of NBC News recently caught up with the Lady Friars new leader.
Questions and Answers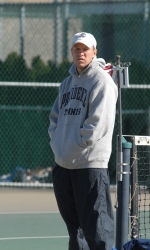 Providence
head coach Kyle LaBranche
courtesy, Providence Athletics
Harry Cicma (HC): Going into your second year, how has the experience been of being a head coach in the Big East?
Kyle LaBranche (KL): Being a head coach is great. We have a wonderful group of young women on this team, and that has really made the job enjoyable. The conference is challenging, but our players work hard and have fun, and we try to make those things our top priorities.
HC: What are some things to be excited about in the world of Providence College tennis?
KL: The most exciting thing is the improvement. It's a combination of the improvement of our players, the talent that we've added, and the extremely high quality of recruits that we're communicating with from all around the country and world. When Becky (Rebecca Ricci, assistant coach and former PC player for my father) and I took over, we were hoping to get back to being a competitive Big East team. We thought it would take a while to get there, but things are turning around much quicker than we could have ever hoped.
HC: You grew up around college tennis, how has your father's guidance helped you as a head coach?
KL: My father's guidance has been invaluable. He did this for so long - and so successfully- that he is the perfect advisor. He still has a strong passion for the game as well. He walks by practices and matches, and his coaching instincts take over right away. He always has tips and comments, and of course his comments are dead on.
As far as growing up with the college game, I think what means most to me is the goal of bringing the pride back to this program. PC was a perennial competitor in the Big East, and growing up as a kid the players on the team were my role models. Consequently, trying to get the program back to where it was is a challenge that is really personal and rewarding for me.
I think the biggest lesson I learned growing up with this program is the importance of having your players enjoy their experience. Many of my father's players went home after college and told other great players how much they would love PC and playing for Coach LaBranche. That's how he got some amazing players and developed a big time program. That doesn't happen if the players don't enjoy their experience, so making sure our players love being a part of this team is our top priority. We believe that if the players love it here, word will spread that this is a great place to play.