College Commitment
Fall Signing Week '09: Santa Clara's Mills Recruits Lamble
by Rhiannon Potkey, 12 November 2009
Santa Clara University men's tennis coach Derek Mills tackles recruiting with the same competitive spirit he does a dual match.
He doesn't sit back and wait for emails to come from players or place a call to an international recruiting service.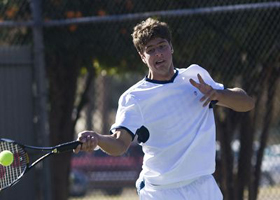 He doesn't let more established programs intimidate him on the trail.
Even if a player tells him Santa Clara isn't on their short list, Mills remains undeterred.
As the coach at a smaller school with a limited budget, Mills knows he can't afford to recruit any other way.
"We are pretty hard core no question," Mills said. "But I realized it was an uphill battle I had when I got here, and if I didn't do it that way I don't think I would be pulling the results we have been."
The results Santa Clara has been pulling have been quite impressive.
This season's freshmen class, which includes Thomas Pham of San Diego and Eugene Muchynski of San Jose, was ranked No. 15 nationally and No. 2 among mid-major Division I programs by TennisRecruiting.net.
Thanks to blue chip recruit John Lamble, the prospect for next season look just as bright.
Lamble, ranked No. 17 nationally in Boys' 18s singles by the time he was 16, has committed to play at Santa Clara.
The Saratoga High senior lives only 25 minutes away from Santa Clara's Northern California campus, and has a family legacy at the school.
Both of his parents attended Santa Clara, and his father, Mike, played tennis for the Broncos for three years.
Lamble's older sister, Kelly, is a freshman this season on the women's tennis team.
But Lamble didn't choose Santa Clara because of his family connections. He chose it because he thought it would "be special" to help build Santa Clara into a national contender.
"I really like what Derek is trying to do with the program," said Lamble, who also considered Michigan, Illinois, UCLA and Notre Dame. "He is trying to bring it up a lot and is working really hard recruiting. I really get a sense that he cares about his players and is going to try and make me the best player I can be."
Santa Clara has taken baby steps since Mills was hired three years ago.
The Broncos finished 2-15 in his first year with three walk-ons in the lineup, and were 4-14 last season.
"I knew what I was getting into and and I felt like if I was patient and stuck to my plan we would be successful," Mills said. "I was willing to take a hit for two years and did. I took some big hits, but I had that plan and went out and hit the recruiting trail hard."