Tournament Preview
Eddie Herr Preview: 16s and 18s
by
Colette Lewis
, 27 November 2009
Yesterday, Colette Lewis previewed the younger age groups at the Eddie Herr. Today she takes a look at the 16s and 18s divisions.
18s Division
US Open champion Heather Watson of Great Britain leads the girls 18s field this year. The 17-year-old Watson, who fell in the 2008 final to Florida's Lauren Embree, has trained at the IMG/Bollettieri Academy for five years, and with a junior slam title and some good wins on the women's ITF circuit, has the confidence to take her "home court" tournament.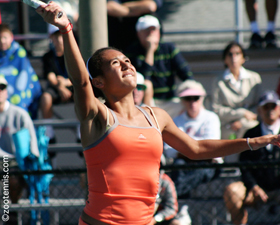 Two other junior slam finalists, both from Russia, are scheduled to compete:
Yana Buchina
, runner-up to Watson in New York, and 2008 Eddie Herr 14s champion
Daria Gavrilova
, who reached the French Open girls championship match. Ninth-ranked
Silvia Njiric
of Croatia, who won the Grade A Copa Gerdau, is one of seven girls ranked in the ITF Top 20 who are vying for the title.
A third Russian to watch is Nadezda Guskova, whose success in ITF women's circuit events in Europe has resulted in a WTA ranking of 427.
Belgium's Sofia Oyen, a 2008 semifinalist, returns, along with Christina Dinu of Romania, who last month won an ITF women's circuit event in Turkey, and also has good memories of Bradenton. She reached the 16s finals last year.
U.S. players aiming to capture the third straight American title, following those by Melanie Oudin and Embree, include Maryland's Beatrice Capra and Noel Scott, Alex Cercone of Florida, 15-year-old Grace Min of Georgia and Monica Turewicz of Illinois. Sixteen-year-old Ellen Tsay received main draw entry on a 16s exemption. Nadia Echeverria Alam of Florida, the runner-up to Gavrilova in the 14s last year, received a wild card to compete in the 18s main draw this year.
Madison Keys, who two years ago won the 12s title, is just returning to form after a lengthy illness, but the young Floridian did reach the final of the recent ITF Grade 2 in South Carolina. Keys will be joined by two other highly touted 14-year-olds in the girls 18s draw: Russians Yulia Putintseva and Irina Khromacheva.
Alex Domijan is not returning to defend his 2008 boys 18s title, but last year's semifinalist Denis Kudla gives the U.S. a top contender. Kudla, a 17-year-old Virginian who recently reached the semifinals of a Futures tournament, is one of seven Americans hoping to match Domijan's achievement. Californian Raymond Sarmiento, the 2008 16s champion, and Bradenton resident Sekou Bangoura Jr., who won the Pan-American Closed B-1 last month, are obviously comfortable with the surroundings.