Special Feature
Talking About Your Tennis: Media Training for Juniors
by
Colette Lewis
, 28 January 2010
Andy Roddick, Serena Williams and Melanie Oudin aren't professors, but junior players at the USTA Training Center Headquarters learned important lessons from the three American stars last fall at a media relations session in Boca Raton, Fla.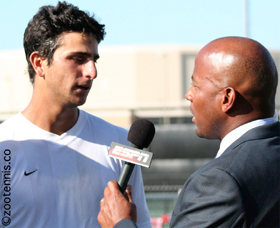 Videos of the trio's post-match press conferences were shown during the training, and watching the three professionals deal with Grand Slam losses made an indelible impression on a pair of the junior competitors attending the class.
"When I saw Serena, she was kind of disappointed from a loss, so she just quickly answered," said Californian Alexios Halebian, 15, a veteran of two such media training sessions. "It wasn't really the way you want to answer questions, being a little bit disrespectful."
"It was really good showing what to do, and what not to do," said North Carolina's Mia King, 14, who was attending the training for the first time.
"Roddick, what to do (watch video here), and Serena, what not to do (watch video here). There was a very big difference."
Noting the response to Roddick's famed wit, King came away seeing the advantages of displaying a sense of humor.
"I learned if things aren't going well, try to joke around with it."
The training, conducted by USTA Director of Public Relations Tim Curry and his associate, Andrew Labovitz, touched on a range of topics: public relations, the burgeoning social media and its impact, the media's role in establishing perceptions, in addition to the standard interviewing dos and don'ts.
"We told them if you're serious about your tennis, one of the things you need to be responsible for, and have ownership of, is the way the public views you. And part of the way that is established or communicated is through the media," said Curry, who has worked in USTA Public Relations for ten years.