College Feature
Virginia Tops Tennessee For Third Consecutive ITA Men's Indoor Championship
by
Colette Lewis
, 18 February 2010
The Virginia Cavaliers won their first ITA Team Indoor championship two years ago in Seattle and their second last year in Chicago. On Monday, they claimed their third straight title, defeating Tennessee 4-1 at the sweetest of locations, their home courts at the Boar's Head Sports Club in Charlottesville.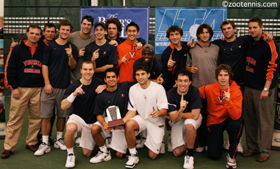 Seeded second in the tournament, Virginia was coming off a surprising 4-3 loss at
Kentucky
the previous weekend, the Cavaliers' first regular season defeat since 2007. Head coach Brian Boland rearranged his doubles lineup in response to the Wildcats' upset, and buoyed by large and enthusiastic crowds at the Boyd Tinsley Courts, his team rebounded with shutouts of
Alabama
and
Georgia
in the first two rounds. In the semifinals, Virginia took a 4-1 decision from No. 3 seed
Ohio State
to reach their fourth Team Indoor final in the past six years.
Awaiting Virginia in the final was No. 5 seed Tennessee, who had recorded wins over Illinois, UCLA and Texas en route. The Longhorns had posted the tournament's biggest upset, taking out top seed and NCAA champion Southern California 4-2 in the quarterfinals, but fell 4-1 to the Volunteers in the semifinals.
In the championship match, the sizable Presidents Day crowd had little reason to cheer their Cavaliers during the doubles matches, with Tennessee taking quick and decisive leads on the No. 1 and No. 2 courts. In short order, the Volunteers claimed an 8-1 win by its No. 1 team of Davey Sandgren and JP Smith over Drew Courtney and Michael Shabaz. Just minutes later, Boris Conkic and Rhyne Williams put the doubles point on the Tennessee side of the ledger with an 8-2 win over Virginia's No. 2 team of Houston Barrick and Jarmere Jenkins.
Boland was not pleased with his team's performance, and used the break prior to singles competition to let them know it.