College Commitment
Countdown: Kissell Follows Own Road to N.C. State
by Joshua Rey, 2 April 2010
When Joelle Kissell thinks of tennis, she can't help but think of family.
One of four children to a tennis-coaching mom, Kissell considers older sister Michaela and younger siblings Stacia and Chad not just as kin, but as her on-court inspiration.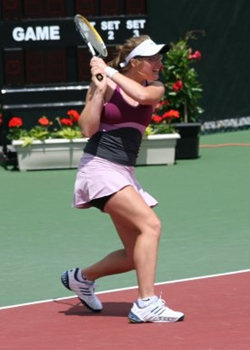 Her best-played match? A 6-4, 6-3 loss to Michaela last summer in which she came oh-so close to winning her first set against big sis.
"Everything I wanted to hit, I could," said the native of Hostetter, Pa. "Unfortunately she was playing at her best too."
Her favorite players to watch? Rafael Nadal, Serena Williams and "my siblings, even though I am so nervous the whole time."
Her greatest sports moment? Not winning the high school state singles championship last November, or qualifying for her first professional main draw last May.
For her one shining moment, Kissell goes way back to February 2006 in Cincinnati, Ohio. That's where 14-year-old Joelle and 17-year-old Michaela teamed to win five pro sets and claim a USTA National Open Girls' 18 doubles title.
"Michaela was asked by someone else to play doubles with her," recalled Kissell, "but she said she wanted to play with me - her three-years younger sister who didn't even get into the singles tournament - so I really wanted to play well for her."
When Michaela transferred from Miami to Marshall after the 2009 college tennis season, 18-year-old Joelle could have been expected to follow suit. After all, Joelle and Michaela took up the game together, with plastic racquets and a punch balloon, and the siblings have been Pennsylvania practice partners ever since.
As Michaela quickly rose to the No. 1 singles spot for the Thundering Herd in the fall, heralded high school senior Joelle visited the Marshall campus. Soon after, she received the scholarship offer that would have reunited her and her sister for Michaela's senior year.
But as National Signing Week came and went last November, Joelle's name was not among the commitments. A press release announcing her decision finally hit the wire on December 11, but it came from Raleigh, N.C., and not Huntington, W.Va.
After much consideration, Kissell committed to North Carolina State. Surely, she must have been seeking a path all her own.
"I never even thought of that," said Kissell. "I think I would have created my own identity, even there, because I'm not Michaela."