Who's Hot?
Prince Hot 100 List - March '10
by Amelia Thomas, 15 March 2010
Although everyone hates losing that hour of sleep when Daylight Savings Time arrives, there is a lot of upside. Days are longer... temperatures are warmer... all good things if you are a tennis player. Many junior tennis players got an early jump on spring in February, and we feature many of them in this month's Prince Hot 100.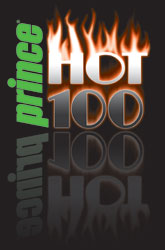 The Prince Hot 100 lists are published each month, and the March lists feature the one hundred boys and girls who most improved their ranking during the month of February. You can find out more about the Prince Hot 100 - and how the lists are calculated - by reading here.
This month's lists, published earlier today, are now available:
Let's take a look at a few of these players...
Roundup
Crews Enochs (Marietta, Ga.)
Seventh grader Crews Enochs entered the rankings as a 1-star player in December, and he has continued to improve significantly each week.
The Marietta, Georgia native competed in three tournaments in February. Enochs won the title at the One Love Tennis Championships as an unseeded player. He also contended in the Southern Bullfrog in Macon, reaching the consolation finals with notable wins over four-star recruits Thomas Bryan, Thomas Williams and Jeffrey Dayton. However, Enochs cites his victory over three-star recruit Christopher Yun as his biggest accomplishment last month.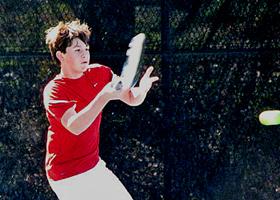 "My best win was against Christopher Yun in the Bullfrog Southern in Macon," Enochs said. "I started out strong, taking the first set 6-0. After losing the second set 6-3, I really had to stay mentally tough to win the super tiebreaker 15-13."
Enochs credits increased time on the practice court as the reason for his improvement, and his parents, Stephen and Lisa Enochs, agree.
"We think Crews has done so well this past month because he went from playing two days a week to six days a week a few months ago," said his mother. "He started playing a lot more because he has made some good friends at practice this school year. Playing with your friends makes it fun to practice... instead of doing too many boring drills with mom and dad."
Enochs works with coach Jerry Baskin, but practicing with his mom and dad is a common occurrence for Enochs since both his parents are tennis players. Though many players come from a family of tennis competitors, Enochs' situation is somewhat unique.
"What separates me from other tennis players is the tennis background of my parents," Enochs said. "They were both All-American tennis players at the University of Georgia."
Enochs doesn't have many college preferences yet due to his age, but he has some ideas.
"I haven't thought about colleges too much," Enochs said, "but I am obviously a big Georgia fan."