College Commitment
Spring Signing Week '10: Grant Commits to the Trojans
by James Hill, 16 April 2010
Michael Grant, a five-star recruit from Santa Barbara, Calif., plans to sign a National Letter of Intent with the University of Southern California Trojans men's tennis team.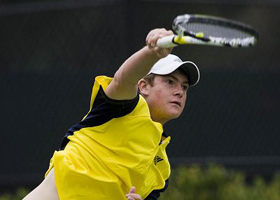 Grant, a native of London who moved to the U.S. in 2004 with his family, plans to join a tennis-rich school that holds 17 NCAA team titles. Guiding the Trojans is eighth-year head coach Peter Smith, who led USC to the 2009 national championship less than a year ago.
The 2010 season is not much different. The Trojans have been a fixture among the top five teams this year in the Campbells/ITA Rankings, holding the No. 1 position for the first four ranking periods of the season.
Smith is unable to comment about his future player, because Grant has not yet signed his NLI. The main reason the 18-year-old Grant has not yet signed the letter is because he is traveling in Spain, playing ITF and futures tournaments. Once Grant does sign on the dotted line with the Trojans, he will have gained a wealth of experience, physically and mentally.
"Playing in Europe has helped develop my game, mostly because I play on red clay 99 percent of the time," Grant said. "It has forced me to become a more patient player, and, when given the chance, take control of the point. If you don't seize the opportunity, your opponent has a much easier time getting back into the point.
"My experience on clay will also help me a lot when I transition onto hard courts, mainly because I'm used to uneven playing conditions and odd bounces."