NCAA Compliance
NCAA Rules Update - Enrolling After Graduation
by USTA Staff, USTA Junior & Collegiate Competition, 26 April 2010
This winter, the NCAA passed bylaws changing how long high school graduates can wait before enrolling at a Division I institution. The NCAA bylaw in question - 14.2.3.2.2 - specifies that tennis players must enroll in college within six months of high school graduation. Organized competition after those six months have elapsed will cause tennis prospective student-athletes to be charged with a season of competition and be required to sit out a year in residence upon enrollment.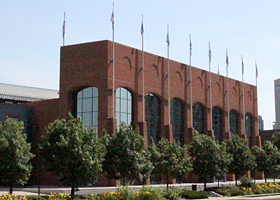 As originally written, those bylaws would impact all graduating classes - starting with this year's class of 2010. High school seniors who had already planned to take time off after graduation would risk losing eligibility.
Date Change
There is some good news on the status of changing the effective date for this legislation.
The NCAA Legislative council has approved amending the effective date to August 1, 2012. What this will do is protect the graduating class of 2010 - and those players who had decided pre-legislation to take a year off. As of right now, it looks promising that those players will be able to take that year off as planned. With this change, the class of 2011 will be the first class subject to the 6 month grace period.
Do keep in mind that the amending of the effective date is considered a new proposal, so it is subject to the 60-day override period (dating from mid-April). Secondly, though it does not happen often, the NCAA Board of Directors can further amend this action if it chooses at its April 29 meeting.
Before members of the Class of 2010 affected by this legislation get too excited about the possible effective date change, remember that there a couple more steps in the process before it is official. In other words, this year's seniors should still have a back-up plan in place that allows for them to comply with the current effective date (Aug. 1, 2011) for the 6 month grace period - for most that would be Fall '10 or Spring '11 enrollment.
There is an article on NCAA.org about these changes as well for reference.
Leave a Comment
More Special Features
12-Sep-2019
From Three-Star to All-American, Touliatos Thrives in College
Preston Touliatos was a three-star recruit with hardly any offers out of high school. After playing one year at Eastern Illinois, he transferred to Tennessee as a walk-on and developed into a doubles All-American for the Vols. Touliatos is now pursuing a pro career before entering med school.
19-Aug-2019
Gorzny on the Road to Recovery Following Major Health Scare
Sebastian Gorzny suffered a serious health scare during the USTA Boys 16s National Championships in Kalamazoo. The 15-year-old was hospitalized for seven days after his father found him unconcious and having seizures in his hotel room bed at 2 a.m.
9-Aug-2019
Spizzirri Brothers Reach International Heights in Tennis, Squash
Twins Eliot and Nicholas Spizzirri are both experiencing international success with racquets, only in different sports. Eliot is one of the top rising senior tennis players in the world while Nicholas is charting his own path in squash.