Tournament Summary
Gabrielle Andrews and Jordan Belga take gold in 14s Easter Bowl
by
Ali Jones
, 21 April 2010
Girls 14s Champion: Gabrielle Andrews
Winning is fast becoming a habit for Californian Gabrielle Andrews.
The 13-year-old top seed started 2010 with the gold ball at the Winter Nationals and then flew to England in February and won the international Aegon Teen tennis trophy. Add to that is an undefeated doubles record since early 2009 in major tournaments, including at the Aegon and Les Petites As.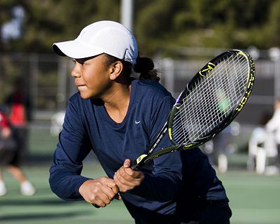 In the hotly contested battle of Blue Chips, Andrews shrugged off the first set she lost in the tournament to the tenacious
Kimberly Yee
and claimed the
Easter Bowl
crown 4-6, 6-3, 6-2.
"I think for the most part, 'the habit of winning' is an attitude," Andrews said. "It's something you can't really teach, but winning is the byproduct of hard work."
While wheelchair-bound and in recovery for hip surgery in 2008, however, Andrews became more introspective about her tennis.
"What is really important is to trivialize the sport and realize it is only a part of life," she said. "I try to put importance on becoming a person of character and making a positive contribution in any way I can. That reason alone motivates me to work hard because I think someday it will give me the opportunity to help others in some capacity."
But don't expect her to lend a helping hand on the tennis courts. She didn't lose a set until the finals in this tournament, but she gives full credit to all her opponents, particularly the runner up.
"Yee is a big, strong player who works out with Asia Muhammad so it's as though you're playing against a professional or something," Andrews said. "It seemed as though every ball she hit in the first set was on the line or a winner. She hit with great depth, running me (literally) off the court."
But Andrews' analytical mind never stopped working during the match and she finally figured out the adjustments that had to be made.
"In the second set I knew the only chance I had was to counter her depth with depth of my own," she recalled. "I was successful in doing so and pulled out the second set."
During the break, she had a quick conference with her father and coach Michael.
"Dad told me to get more pace on my shots and try not to leave anything in the middle of the court," she said. "Try not to let her get into a rhythm, mix up the pace and ground strokes, utilize my serve. Fortunately, I got into a good rhythm on my serves late in the third set and was able to pull out the win."
The most important detail her father emphasized is that "it's not about winning the match. It's the spirit in which you play. Your opponent deserves your best effort and that's what I tried to do," Andrews said.