Who's Hot?
Prince Hot 100 List - June '10
by Amelia Thomas, 18 June 2010
While some kids tan by the pool, romp around on the beach and dance at outdoor concerts, junior tennis players are just getting started for a summer full of competition. With school out of session, it just means more time for training and tournaments. We took a look at how a few of these recruits performed in the month of May.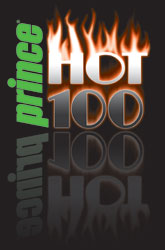 Today, TennisRecruiting.net and Prince Sports keep summer rolling with another edition of the Prince Hot 100. The Prince Hot 100 lists are published each month, and the June lists feature the one hundred boys and girls who most improved their ranking during the month of May. You can find out more about the Prince Hot 100 - and how the lists are calculated - by reading here.
This month's lists, published earlier this week, are now available:
Let's take a closer look at a few of these players...
Roundup
Henry Craig (Murrieta, Calif.)
Before becoming an accomplished tennis player, sophomore Henry Craig was the number-three ranked junior gymnast in California. Craig realized early that he didn't have the passion for gymnastics, and it was just by chance that he saw a sign one day that read "tennis lessons." He began taking lessons, and loved it immediately
"I found out I really enjoy tennis, so that's where I find myself today," Craig said.
This turned out to be the right choice last month. The five-foot-eight Murrieta, California native competed in three tournaments in May, recording four wins over 5-Star opponents on his way to a 14-4 record for the month. Several of those wins came in the backdraw of the Quiksilver Junior Championships - Craig reeled off five straight wins to win the consolation event.
Craig shared the importance to him of being ready for a match. "The right preparation is vital - warming-up, eating right, getting good rest, etcetera," Craig said. However, his father, Randy Craig, credits his son's recent success to the combined effort of his coaches.
"Bill Behrens, Henry's main coach, was a former touring pro, and he constantly studies the pros and brings the latest techniques and nuances into Henry's game," Randy Craig said. "Justin Montgomery recently played for Pepperdine, and brings youth, excitement and encouragement. It makes for a nice blend. Everything just seemed to fall into place in May!"
Henry Craig says that currently, he and his coaches are working on "...everything. I am trying to build a steady game of not missing the rally ball and putting away shots when I need to," Craig said. "One big improvement, though, was my backhand. For several days, I practiced hours of backhands until it felt like it was my best shot. This, along with other variables, brought my game to a whole new level."
One of Craig's best wins came against 5-star junior Howard Weiss (#26 USTA Boys 16s) at the National Open in Midland, Texas. Towards the beginning of this intense match, Craig had some trouble with an injury.
"My right ankle was giving me some problems, and I couldn't keep a rally going. Finally, when I was down 3-0, it loosened up and it was a battle climbing back up to 4-3."
Craig finished up the first set 7-6(3) and went on to win the second set 6-2.
Craig is active at his school, both athletically and academically. Playing #1 singles for the past two years at Murrieta Valley High School, Craig was the undefeated (34-0) Southwest League singles champion this season.
In the classroom, Craig is a straight-A honor student. He is enrolled in five Advanced Placement classes his junior year - and he has some concerns about this rigorous schedule competing with his tennis. However, Craig and his family believe he is mature enough to pull it off.