Photo Galleries
Photo Gallery
Peachtree City L2 Photo Gallery
by TRN, 15 February 2021

Located just south of Atlanta, the Peachtree Tennis Center has hosted many USTA National and Southern Section Championships. Last weekend the club held a USTA Level 2 National 16s tournament. On the boys' side, Carson Baker of Daniel Island, S.C. won the singles title, while Conley Raidt of Alpharetta, Ga. took home the girls' title.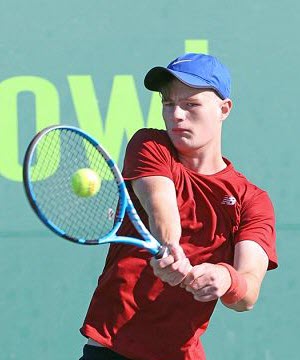 Photo Gallery
Images from the Orange Bowl
by TRN, 31 December 2020

The 2020 Orange Bowl was played in early December at the Frank Veltri Tennis Center in Plantation, FL. Unseeded players won both the 18s Championships; Ashlyn Krueger of Lewisville, Texas, and Arthur Fils of France. The 16s champions were 15th seeded Jonah Braswell of Sarasota, Fla. and unseeded Valeria Ray of Doral, Fla.
Photo Gallery
Action Shots from the Sunshine State Open
by Bill Kallenberg, 20 September 2020

Players from across the state of Florida followed new safety protocols and braved rain from a hurricane to compete in last weekend's Sunshine State Open at Delray Beach, Fla. Anushka Khune and Jacob Lowen won the girls' and boys' singles titles in the 18s division. Photographer Bill Kallenberg checks in with this photo gallery.
Photo Gallery
Florida Summer Smash Photo Gallery
by Bill Kallenberg, 6 September 2020

USTA Florida Boys Summer Smash took place in Delray Beach last weekend, where senior Julen Morgan (Miami) and freshman Tanner Povey (Indian Rocks Beach) took home the singles titles in the 18s and 16s divisions, respectively. Photographer Bill Kallenberg was onhand to capture action shots from the event.
19-Jul-2020
Images from the Georgia Junior Open
The Georgia Junior Open, a TRN National Showcase, is traditionally the largest junior tennis tournament in Georgia. With COVID in play, there were strict policies in place to minimize contact and promote social distancing in accordance with USTA guidelines for play. In the end, 379 players from 8 of the 9 USTA Southern States plus Florida and California competed at the Rome Tennis Center. Check out images from the event ...