Showcase Announcements
Upcoming Collegiate Information Sessions, Showcases and Forums
by USTA, 17 October 2010
Many people are curious about college tennis and the college recruiting process. When should I get started? How does it all work?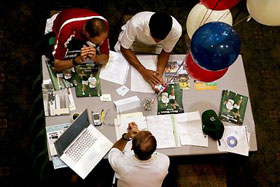 There are lots of educational opportunities, but one great way to get started is through introductory information sessions. All across the country, USTA Sections and other organizations are hosting such information sessions, showcases, and forums to educate players and parents on college tennis and recruiting.
The USTA College Tennis Website includes a page with links to upcoming events about college tennis. Here are some events coming up in November:
USTA Middle States College Showcase
November 6, 2010
Arthur Ashe Youth Tennis & Education Center
Philadelphia, PA
Michael Kennedy: (610) 935-5000 x226
A.C.E. College Information Fair
November 6, 2010
USTA Billie Jean King National Tennis Center
Flushing, NY
Linda Mann: (914) 697-2385
USTA Eastern College Showcase Day
November 7, 2010
USTA Billie Jean King National Tennis Center
Flushing, NY
Julie Bliss: (914) 697-2229
USTA New England College Day Forum
November 7, 2010
College of the Holy Cross
Worcester, MA
David Zeutas-Broer: (508) 366-3450 x22
USTA Mid-Atlantic College Showcase
November 20, 2010
The College of William & Mary
Williamsburg, VA
Bonnie Vona: (703) 556-6120 x17
USTA/PTM College Tennis Showcase
November 21, 2010
Methodist University
Fayetteville, NC
Kelly Gaines: (336) 882-8577
Keep up to date with future sessions and showcases by monitoring this page on the USTA College Tennis Website.
Leave a Comment
More Recruiting 101 Articles
9-Oct-2017
Countdown: Let Coaches Know When It's A No
Former Oklahoma coach Dave Mullins explains why telling coaches you won't be committing to their programs once the final decision is made is almost as good as telling them yes. Rather than sending a message or having mommy or daddy do it, pick up the phone and call each coach yourself.
5-Jul-2017
Assessment at a Young Age Could Save Your Child's Tennis
This article was prompted by an increasing number of parents over the years contacting me for a truthful assessment of their child's tennis. It is not so easy to receive the truth for some, so I am here to give you the truth. Many parents get very excited when their 12- or 14-year-old is obtaining excellent results. Does it mean that the child will go on to do great things in tennis? Maybe, but the real answer is not always so simple.
4-Jul-2017
Recruiting Terms and Calendar for 2017-18
July marks the beginning of another recruiting year. Recruiting expert Dede Allen is back to review important dates on the calendar for all ages - and she also has a primer on basic recruiting terms.