Special from
Zoo Tennis
The depth of the USTA Boys 18s and 16s Nationals field can be measured several ways, but perhaps the most eye-popping method is the number of players boasting an ATP ranking. Twenty boys who begin competition this weekend in Kalamazoo have earned at least one ATP point, arming themselves with extra confidence as they contend for titles at the most prestigious tournament in US junior tennis.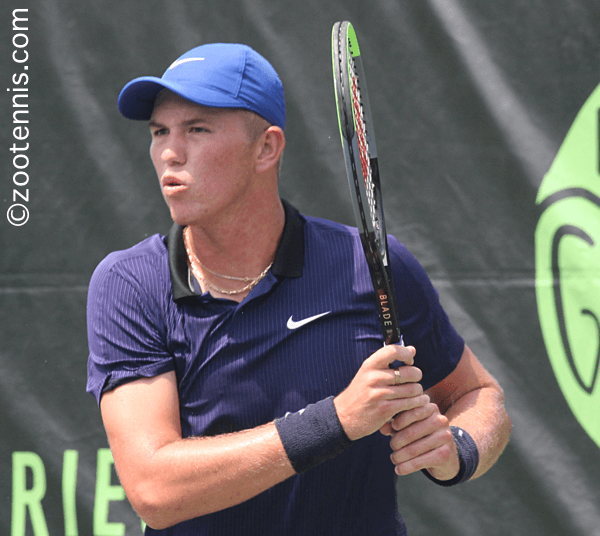 Martin Damm is the Top Seed in the 18s
© Zoo Tennis
In addition, 16 competitors hold International Tennis Federation world junior rankings in the Top 100, adding more depth to the 2022 field.
Top seed Martin Damm has not played a junior event since last year's Kalamazoo tournament, where the second-seeded Floridian lost in the fourth round. The youngest player ever to win the 16s title in Kalamazoo in 2018, the 18-year-old left-hander earned his second Pro Circuit singles title at a $25,000 tournament in the Dominican Republic in June. That boosted his ATP ranking into the Top 500 for the first time, and he is the only competitor in this year's field with that distinction.
But No. 509 Ethan Quinn, the No. 2 seed, is moving up quickly after a stellar two months on the USTA Pro Circuit this summer. Quinn, who enrolled at the University of Georgia this January but did not play for the Bulldogs, earned his first Pro Circuit title in June at a $15,000 tournament in San Diego. The 18-year-old from California followed that with a title at the $25,000 tournament in Champaign, Illinois two weeks ago, while also winning two Pro Circuit doubles titles. Last year, Ben Shelton arrived in Kalamazoo as the Champaign champion and reached the final; Quinn would like nothing better than to make that a trend.