College Feature
TCU Secures Second Straight ITA National Indoor Title
by Rhiannon Potkey, 22 February 2023
Securing a second straight national title? Pretty sweet. Doing it against an in-state and conference rival? Even sweeter.
Defending champion TCU beat eighth-seeded Texas 4-0 on Monday afternoon in the final of the ITA Division I Men's National Team Indoor Championship at the XS Tennis Village in Chicago.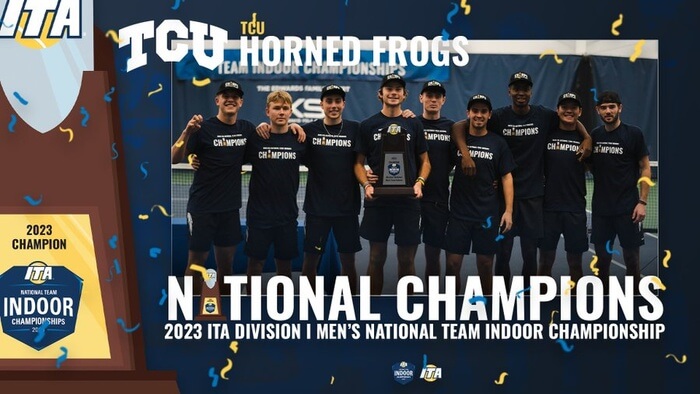 After capturing the first national title in program history last year, the third-seeded Horned Frogs made it back-to-back with a sweep of the Longhorns in an all-Big 12 showdown in the Windy City.
"Incredible performance from our boys," TCU head coach David Roditi said. "One through six in singles, one through three in doubles, the guys on the bench – everybody contributed. As coaches, we couldn't be prouder of the way they showed up today. The seniors, the juniors, the sophomores, the freshmen – unbelievable day."
TCU (12-0) became the seventh program in the 50-year existence of the tournament to win back-to-back championships, and the first repeat winner since Virginia in 2010 and 2011.
The victory extended TCU's program record and nation-leading indoor winning streak to 24. Of the 24 victories, 16 have come against ranked opponents.
Texas was making its first appearance in the championship match, but the Longhorns managed to only win two sets against the Horned Frogs.
TCU secured its 16th straight doubles point, which is a school record and nation-leading streak, behind victories from the teams of Sander Jong-Jack Pinnington and Jake Fearnley-Luc Fomba. Jong and Pinnington beat Pierre Yves-Bailly and Siem Woldeab 6-2 at No. 2 and Fearnley and Fomba beat Cleeve Harper and Elliot Spizzirri 7-5 at the No. 1 spot.
Pinnington gave TCU a 2-0 lead with a 6-4, 6-0 win over Micah Braswell on court three, and the other victories quickly followed. Jong defeated Woldeab 6-2, 6-3 at No. 4 and freshman Sebastian Gorzny clinched TCU's second straight national indoor title with 6-4, 6-1 win over Harper at No. 5.
TCU beat No. 11 Georgia, No. 14 Baylor and No. 2 Kentucky to reach the finals. Texas beat No. 9 Wake Forest, No. 1 Ohio State and No. 4 Michigan.
After posing for photos with the trophy on court, the Horned Frogs even managed to make it back to Fort Worth on Monday night in time to be honored during the men's basketball game against Kansas.
TCU 4, Texas 0
Doubles Results
Jake Fearnley / Luc Fomba (TCU) def. #4 Cleeve Harper / Elliot Spizzirri (UT): 7-5
Sander Jong / Jack Pinnington (TCU) def. Pierre Yves-Bailly / Siem Woldeab: 6-2
Sebastian Gorzny / Pedro Vives (TCU) vs. Micah Braswell / Chih Chi Huang (UT): 6-5
Order of Finish: 2, 1
Singles Results
#17 Jake Fearnley (TCU) vs. #1 Elliot Spizzirri (UT): 6-1, 6-7
#49 Luc Fomba (TCU) vs. #33 Pierre Yves-Bailly (UT): 6-4, 3-4
Jack Pinnington (TCU) def. #65 Micah Braswell (UT): 6-4, 6-0
Sander Jong (TCU) def. #25 Siem Woldeab (UT): 6-2, 6-3
#124 Sebastian Gorzny (TCU) def. #112 Cleeve Harper (UT): 6-4, 6-1
Tomas Jirousek (TCU) vs. Evin McDonald (UT): 6-7, 1-1
Order of finish: 3, 4, 5