College Feature
UChicago Repeats as Division III Women's Indoor Champions
by Rhiannon Potkey, 8 March 2023
The University of Chicago women probably didn't realize a quirky streak was even on the line when they began play at the ITA Division III Women's National Indoor Team Championships.
The defending champion Maroons just wanted to win another title for their own sake.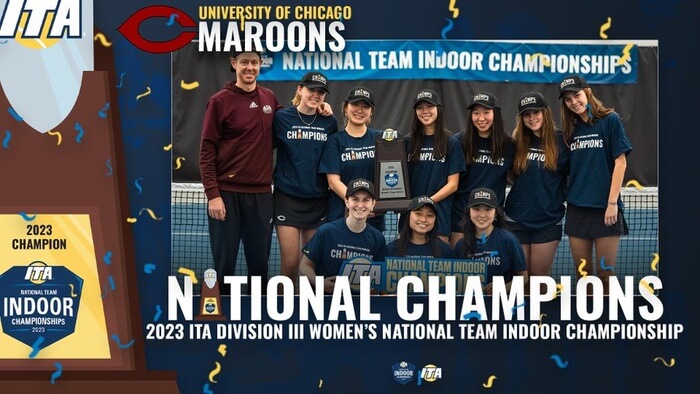 But with a 5-1 win over top-seeded Claremont-Mudd-Scripps in the final on Sunday at the Top Seed Tennis Club in Nicholasville, Kentucky, No. 2 UChicago culminated a championship stretch of repeats.
All four ITA Indoor team champions in NCAA Division I and III defended their titles this season, with the TCU men and North Carolina women (four straight) claiming the Division I crowns for the second consecutive year and the Case Western men and UChicago women doing the same in Division III.
Like the Case Western men, the two straight Indoor titles for the UChicago women are the first two in program history. UChicago joins Emory and Johns Hopkins as the only programs to win the event in consecutive years.
"Our play all weekend was all about the team's resilience and resolve," said UChicago head coach Jay Tee. "They had every opportunity to make the excuse that finals start on Monday or that they were tired or stressed or any number of other things, but that's not what this team is about and that's why their success isn't a fluke. From the first day, they were determined to outwork the other team and to keep fighting no matter the circumstance, and they did just that."
UChicago took the lead for good at 2-0 with victories at the top two doubles spots. Sylwia Mikos and Shianna Guo defeated Alisha Chulani and Nikolina Batoshvili 8-6 at the No. 1 spot and Claudia Ng and Parene Wang beat Olivia Almy and Audrey Yooon 8-5 at No. 2. CMS captured its only point with a tiebreaker win at No. 3 doubles by Katherin Wurster and Sena Selby.
After the team split first sets evenly 3-3 across the six singles courts, UChicago raced to the victory behind straight-set wins by Nicole Geller, Brooke Pederen and Ng.
Geller gave the Maroons a 3-1 lead with a 6-3, 6-1 victory over Wurster at No. 3 singles. Ng defeated Batoshvili 6-4, 6-2 at No. 6 and Pederson clinched the match with a 7-5, 6-4 win over Ellia Brissett 7-5, 6-4 at No. 4.
"In the finals, we did a good job of not making this about revenge, a championship or a goal. Rather, we just wanted to stick together and play the ball, not the opponent or moment, which we did," Tee said. "I couldn't be happier for the team or more proud to share the courts with them this weekend."
Chicago (8-0) beat No. 7 Carnegie Mellon 7-1 in the quarterfinals and No. 3 Pomona-Pitzer 8-1 in the semifinals. CMS (4-1) beat No. 8 Case Western 6-3 in the quarterfinals and No. 4 MIT 7-2 in the semifinals.
MIT won the third-place match over Pomona-Pitzer 5-4. No. 5 Emory defeated No. 6 Sewanee 5-0 in the fifth-place match, and Carnegie Mellon beat Case Western 5-4 in the seventh-place match.
All-Tournament Team
Most Outstanding Player: Sylwia Mikos, UChicago
Singles
No. 1 - Mikos
No. 2 - Shianna Guo, UChicago
No. 3 - Caroline Vincent, MIT
No. 4 - Jay Lu, MIT
No. 5 - Miranda Yuan, UChicago
No. 6 - Claudia Ng, UChicago
Doubles
No. 1 - Mikos/Guo, UChicago
No. 2 - Sarah Pertsemlidis/Lu, MIT
No. 3 - Katherine Wurster/Sena Selby, Claremont-Mudd-Scripps
Team Sportsmanship Award - MIT
Championship Match:
UChicago 5, Claremont-Mudd-Scripps 1
Singles
1. Sylwia Mikos (UC) vs. Alisha Chulani (CMS) 4-6, 6-1, 1-2, unfinished
2. Shianna Guo (UC) vs. Audrey Yoon (CMS) 0-6, 4-5, unfinished
3. Nicole Geller (UC) def. Katherine Wurster (CMS) 6-3, 6-1
4. Brooke Pedersen (UC) def. Ella Brissett (CMS) 7-5, 6-4
5. Miranda Yuan (UC) vs. Sena Selby (CMS) 2-6, 5-4, unfinished
6. Claudia Ng (UC) def. Nikolina Batoshvili (CMS) 6-4, 6-2
Order of finish: 3,6,4
Doubles
1. Sylwia Mikos/Shianna Guo (UC) def. Alisha Chulani/Nikolina Batoshvili (CMS) 8-6
2. Claudia Ng/Perene Wang (UC) def. Olivia Almy/Audrey Yoon (CMS) 8-5
3. Katherine Wurster/Sena Selby (CMS) def. Nicole Geller/Lauren Khou (UC) 8-7 (7-3)
Order of finish: 1,2,3
Leave a Comment
More College Coverage
13-Mar-2023
USF, Sense Arena Partner with Cognitive Virtual Reality Training
The University of South Florida men's and women's teams are the first NCAA tennis programs to partner with Sense Arena, a sports virtual reality company headquartered in Prague, Czech Republic. Yannick Yoshizawa, Sense Arena's Vice President of Tennis, played at USF.
1-Mar-2023
Case Western Defends DIII Men's National Indoor Title
Case Western Reserve University claimed its second straight ITA Division III Men's Team Indoor National Championship title with a 5-1 win over No. 4 Washington University in Saint Louis at the Swanson Tennis Center in St. Peter, Minnesota last Sunday.
22-Feb-2023
TCU Secures Second Straight ITA National Indoor Title
TCU secured its second straight ITA Men's National Team Indoor title on Monday with a 4-0 win over in-state and conference rival Texas in Chicago. The Horned Frogs are the first repeat winners since Virginia in 2010-11.
About Rhiannon Potkey
Rhiannon Potkey is a veteran sportswriter with more than two decades of experience in journalism. Potkey has covered many sports at many levels and has a passion for finding great stories. Potkey has covered the U.S. Open, junior sectional and national events, college conference championships and Davis Cup matches. Potkey is currently Content Strategist for Tennis Recruiting. You can reach Rhiannon by email at
[email protected]
.