Recruiting Feature
Top Men's Classes - 2013 Spring Rankings
by TennisRecruiting.net, 27 May 2013
Today is the last day of the NCAA Championships in Champaign-Urbana, Illinois, with the men's and women's singles and doubles championships taking place today.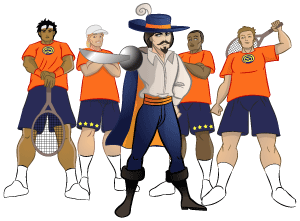 But before the matches begin - and the 2012-13 season comes to an end - Tennis Recruiting casts an eye to the future and looks at the top recruiting classes that will arrive this coming fall. With more than 1,700 committed seniors, the majority of schools have completed their recruiting for this year's class.
Today, The Tennis Recruiting Network announces the Top 25 men's recruiting classes for the Class of 2013.
Media Poll
The Tennis Recruiting Network has again enlisted the aid of junior tennis experts to determine the top classes. Reporters, national and international tournament directors, referees, ranking chairmen, and writers from across the country have donated their time and talents to vote on these top classes. Panelists for this voting period are shown below.
Each of our panelists submitted his/her take on the Top 25 recruiting classes. Schools received 25 points for each first-place vote, 24 points for each second-place vote, on down to 1 point for each 25th-place vote. The panelists were told not to consider incoming transfer students in their voting - and also did not consider players that started college in January.
Top 25 Men's Recruiting Classes (through May 3)
Here are the Spring Rankings of the top men's college recruiting classes, presented by the Tennis Recruiting Network. The Top 25 classes are shown in order, with the point totals and previous ranking from the winter in the two columns at right. The number of first-place votes is shown in parentheses next to the school name.
New recruits for schools are shown in bold italics. These lists are based on all commitments reported through May 3, 2013.
Also Receiving Votes
Other men's programs receiving votes are: George Washington (43), Minnesota (31), Dartmouth (27), N.C. State (23), Clemson (22), Cal Poly (18), Penn State (18), Michigan (16), Denver (13), Notre Dame (11), Yale (10), Duke (7), Richmond (6), Vanderbilt (6), Monmouth (4), LSU (2), UC Santa Barbara (2), TCU (1), UC Davis (1).
Dynastic Cavaliers
It's a good time to be a Virginia fan. After winning their first-ever NCAA Championship last week, the Wahoos should reload next year for another title run. No. 1 Jarmere Jenkins and No. 6 Julen Uriguen are graduating, but Virginia returns a wealth of experience - including Alex Domijan and Mitchell Frank who have won singles titles at major college events. For good measure, let's add the top-ranked recruiting class of 2013 to the mix.
The recruiting class of Thai-Son Kwiatkowski, Luca Corinteli, Juan Aragone, and Jordan Daigle - four recruits who have all been ranked in the top 5 nationally - earned 16 of the 20 first-place votes and 496 out of 500 possible points.
Into the Top 10
A look at the rankings shows two teams new to our Top 10: Texas (No. 9) and South Florida (10).
The Texas Longhorns have added to their recruiting haul, signing Clement Homs of France this spring to go with Fall recruit George Goldhoff. Homs and Goldhoff will join JUCO transfer Adrien Berkowicz - singles champion at the 2012 USTA/ITA National Small College Championships - as newcomers to Austin this fall.
The South Florida Bulls are bringing in perhaps their best recruiting class ever - including two players with ATP ranking points. The four-man class of Roberto Cid, Alexandru Gozun, Vadym Kalyuzhnyy, and Finn Meinecke earned 302 points in the voting. Both Cid and Meinecke, who enrolled in January but whose eligibility starts this coming fall, have posted wins over adults ranked in the Top 1,000.
New Arrivals
There are three programs in the rankings that did not appear in our winter poll. In addition to the aforementioned Bulls of South Florida, North Florida and Harvard check in at No. 15 and No. 18, respectively.
North Florida is making its first-ever appearance in our recruiting class rankings. Indeed, the Ospreys have never before garnered a single vote. But that all changed this year, as the five-man class of Zachary Goldberg, Jack Findel-Hawkins, Fabian Pronnet, Yannick Zuern, and Caio Gomes earned 178 points - which was good enough for the No. 15 spot in our list.
Conversely, the Harvard Crimson are no strangers to our rankings. 2013 marks the third straight year and sixth overall that Head Coach Dave Fish has attracted a top class to Cambridge. The Crimson added Pak Long Yeung of Hong Kong to Andrew Ball and Sebastian Beltrame - a pair of 5-Star recruits - to earn the No. 18 spot on our list.
Conference Call
The super-sized ACC and the more stable Ivy League each have five representatives in the rankings.
The ACC has three teams in the Top 10: top-ranked Virginia, the No. 3 North Carolina Tar Heels, and the No. 6 Florida State Seminoles. Other ACC programs in rankings are Georgia Tech (No. 11) and Wake Forest (21).
As mentioned in last week's article, the talent level at Ivy institutions has been growing, and these recruiting class rankings show that the trend is continuing. Five Ivy programs - Cornell (No. 14), Harvard (18), Princeton (19), Penn (22), and Columbia (23) - appear in the rankings. With two more schools - Dartmouth and Yale - also receiving votes, classes from seven of the eight Ivies got the attention of our panel.
Other conferences with more than two programs in the rankings are the PAC-12 and SEC with four programs apiece. The PAC-12 has three programs in the Top 10 and four in the Top 12.
Four recruiting classes in our rankings come from programs outside of the so-called "high major" conferences, and these four programs are each the sole representative of their conferences. In addition to
South Florida
(
American Athletic
) and
North Florida
(
Atlantic Sun
), we see perrenial powerhouses
Pepperdine
of the
West Coast Conference
at No. 16 and
Boise State
of the
Mountain West
at No. 17.
These four programs should figure prominently in our mid-major rankings which will be published in the coming weeks.
Panelists for May 2013
The 20 panelists for this voting period are shown below alphabetically. We sincerely appreciate them donating their time and talents to this effort. Please join us in thanking them when you see them out and about in the tennis world.
Dede Allen, Contributor to TennisRecruiting.net, USTA Florida Section, consultant to Prince Sports
Joseph Braden, Director of Tennis at Schwartz Tennis Center, USTA/Midwest Tournament Director.
Casey Chapin, National Tournament Director, Director, Hudlow Tennis Center
Brian Cory, Director of Tennis at Carmel Valley Athletic Club, National Tournament Director
Sonny Dearth, Daily Press newspaper and dailypress.com Web site in Newport News, Va.
Tim Donovan, Donovan Tennis Strategies, DTS College Prospects Showcases
Barry Friedman, Director of Tennis, The Claremont Club, National Tournament Director G18's National Team Championships, tournament director USTA Men's Pro Circuit (Pomona Valley Hospital Medical Center USTA Pro Classic)
Sally Grabham, National Tournament Director, USTA Winter Nationals, National Junior Competition Committee, Southwest Junior Competition Committee, Central Arizona Delegate
Larry Haugness, USTA/Missouri Valley Board of Directors, National Tournament Director, PTR National Tester, USPTA, Junior Davis Cup Coach
Marty Hennessy, Director of Tennis at The Stirling Club, USPTA professional, National Tournament Director
Larry Jackson, Director, Dayton Center Courts and Tennis Academy, National Tournament Director
Ali Jones, Contributor to TennisRecruiting.net, USTA/Texas Junior Tennis Blog
Ernie Katko, Junior Development Coach in Chicago, USTA High Performance Coach, USPTA, PTR, Member of USTA/Midwest Coaches Commission
David "The Koz" Kozlowski, Inside Tennis With The Koz, The Tennis Channel
Colette Lewis, ZooTennis.com
Phil Parrish, Tennis Director, The Longfellow Club, National Tournament Director, Former College Coach
Robert Sasseville, National Tournament Director, USTA National Referee
Jeffrey Szekely, Former National Tournament Director, USTA Clay Courts
Clayton Taylor, Former ATP and Collegiate Coach. Former Director of U.S. International Hard Courts and National Opens.
Julie Wrege, TennisInformation.com, TennisRecruiting.net, former National Tournament Director, former USTA ranking chair
Rankings, Rankings Everywhere...
These are only the first of our Recruiting Class Rankings. Rankings for the women's classes will be released next Monday, June 3rd, followed by rankings of Mid-major as well as NCAA Division III schools.
Leave a Comment
More Recruiting Class Rankings
30-Jan-2023
Top Men's Classes - 2023 Winter Rankings
As January comes to a close and the spring semester gets into full swing, today is a great time to take a look at the top college tennis recruiting classes. TRN is excited to present its 2023 Men's Recruiting Class Rankings - including the Top Dawgs ...
24-Jun-2022
2022 Top NCAA D-III Women's Classes
TRN wraps up three weeks of recruiting class rankings with a look at Division III. Our final list of the season shows the Top 25 NCAA Division III recruiting classes.
20-Jun-2022
2022 Top NCAA D-III Men's Classes
The Tennis Recruiting Network is excited to present its recruiting class rankings for NCAA Division III conferences. Today we unveil our Top 25 D-III men's recruiting classes for 2022.