Who's Hot?
Prince Hot 100 List - April '13
by Amelia Thomas, 21 April 2013
The entire Tennis Recruiting staff is catatonic - recovering from the whirlwind of activity that was Spring Signing Week 2013. But the junior tennis world never sleeps, and spring is a great season for competing. Some of the junior players who competed at a high level over the past month appear in this edition of the Prince Hot 100.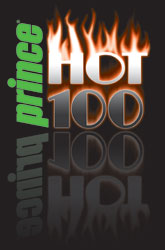 The Prince Hot 100 lists are published each month, and the April Hot 100 lists feature the one hundred boys and girls who most improved their ranking during the month of March. You can find out more about the Prince Hot 100 - and how the lists are calculated - by reading here.
The latest lists, published this past week, are now available:
We talked with some of these top performers...
Roundup
Kirsten Ward (Statesville, N.C.)
Four-star junior Kirsten Ward lost over a year of competitive tennis play due to a serious injury. She began experiencing right shoulder pain in August 2011 and went through months of physical therapy to treat the problem.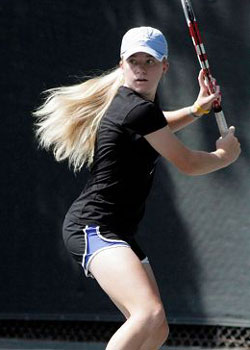 "When that shoulder injury occurred in August 2011, Kirsten wanted to play regardless of the injury and pain she was in," her mother, Bonnie Ward, said. "I called [her physical therapist] and her coach, Scott Handback, and we had to make an executive decision regarding pulling her out of the match since she would not give up and come off the court."
In January of the following year, Ward was told that the therapy was not working and she would need surgery to repair her labrum, the cartilage surrounding the shoulder joint. She then had six more months of physical therapy, during which she was not able to compete, or even lift a racquet.
"Kirsten is right-handed and has a one-handed backhand, so this was devastating for her," Bonnie Ward said. "She was miserable during this time."
Kirsten Ward was finally allowed to hit lightly beginning in April 2012, and she gradually increased her hitting time. She played her first post-surgery tournament that May. "I had to start with some lower level local tournaments in order to build my rankings back up. I fell significantly in rankings after my injury. I am pleased with the amount of time it has taken me to rebuild my rankings," Ward said.
Before her injury, she was #1 in her age group in North Carolina and #36 in the South, and she is now #9 in North Carolina and #27 in the South. "It has been a difficult road back, but I am even more determined now than I was before, and I am glad to be back at the level I am playing and competing," Ward said.
The Statesville native's recent play demonstrates how far she's come. She competed in three tournaments in March, reaching the playoffs of the Greensboro March Madness Championships and the consolation semifinals of the Bullfrog Southern Designated. Ward carried this success into April, when she won the North Hills Club Spring Open.
With her renewed success, Ward is thinking about her future. She volunteers at the Wound Care Center, and she hopes to eventually enter the medical field. She also plans to play tennis in college. "I am looking for a team that I can play on and that works hard on and off the court," she said. "A place that would not only be a good fit for me, but I would be a good fit for as well."