Recruiting 101
Countdown: Thomson on Player Expectations
by Paul Thomson, 7 November 2013
In our last discussion, I talked about questions involving coaches awarding scholarships and if and how scholarships could change during the course of a player's career. We also discussed out-of-pocket expenses that players and families should expect.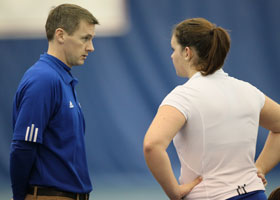 Coach Paul Thomson discusses expectations in college
In this second discussion I will address more questions asked by players and parents:
How many hours per week are expected from the players? How many players will be used for varsity matches in the course of a given year? How many non-varsity, walk-on players do teams carry, and what is expected of them?
How many hours per week are expected from the players?
I will start this discussion the same as I did the first: "It all just depends." Like the first set of questions, however, every college tennis program will have one thing in common as far as time expectations. Per NCAA guidelines, player/team activity during the season is limited to a total of twenty hours per week with one mandatory off day. Player/team activity out of season is limited to eight hours per week with only two of those hours being on-court instructional time with the coaching staff. During out-of-season training, two off days per week are required. The off days usually vary week to week based upon a team's in-season playing schedule.
Although the NCAA limitations on time commitment seem straightforward, calculating the true time spent is more difficult. The first area where things get complicated is match days. All competition counts as three hours, regardless of the number of hours a player competes. A match might last for one hour or five hours. Some teams also play double headers, and those may result in a nine- or ten-hour day. But all of these scenarious only count towards three hours of the twenty on the NCAA limitation.
Another factor that often goes unmentioned around competition is travel. Travel does not count against a team's twenty hours, but travel hours are obviously real when you are on the road. Those two-hour - or even ten-hour - van or bus rides can really add up, and when a team flies cross-country that is often an all-day endeavor. A player/team travel day may in fact end up being counted as an off day. It happens. A team may go to class Thursday morning and then fly out that afternoon. After getting to their destination it's straight to dinner and the hotel. They will get up on Friday morning, and get a hit in wherever they are playing. Then they go to lunch, back to hotel to change, and then on to their match. Saturday, they are up again for either a morning match or another hit and an afternoon match. Perhaps they will fly out Saturday evening and actually get Sunday off, or that Sunday may also end up being a day off even as a full day of travel.
In the course of a week, players will have team practice, individual hits with the head or assistant coach, and fitness and endurance sessions with the strength and conditioning coach. There are team and player meetings. Some coaches also analyze film with their players from match to match. These activities all have to fall within the twenty hour per week guideline, but the actual player hours could be 25 to 30 - or more - depending on how many matches are played that week and how long the matches last. Coaches can require and schedule a full week up to twenty hours. Past that, any other on-court time or workouts are up to the players themselves. Coaches can only get so much done with teams and players in the time they have. It is often up to a player and teammates to put in extra work and time to push themselves to a higher level. The ones that do this are often the ones who are traveling and competing. Coaches love the "court rats" who are putting in the time/effort on their own. They cannot require it or make it mandatory, but a coach is going to go after and recruit players that are going to put in the extra time on their own.
I challenge any recruit to go and look at any of the top teams in the country and find one where the players themselves - whether a men's or women's team - are not putting in extra time in by themselves on and off of the court.
It just doesn't happen.
The best teams in the country may have the best talent, but the ones who win the NCAA Tournament - or even their conference championship - are the ones who are putting in the extra work on their own. I have a saying, "Talent doesn't sweeten the tea" - meaning simply because it is there it doesn't make you good. The life of a student-athlete is very demanding. But is also very rewarding.
The other time requirement for student-athletes that is often left out is academics. I do not mean going to class which is obviously "required" for kids to do well. I mean the academic time like study halls or tutoring sessions. There is a rule of thumb that says a college student should put in two or three hours studying for every hour that they are in class. Many coaches, such as myself require study hall hours for players. This may not count as athletics time, but it is often expected by coaches as part of the process.
With my teams I require all freshmen to do five to six study hall hours per week. Further, players with a cumulative GPA under 2.75 are also required to participate in study hall hours. Some of this time is spent with a tutor, but the majority of this time is generally in the library or computer lab. While we are on the road, my players will study together in the hotel lobbies and even on the van. It is a necessary routine not just to graduate but also to remain eligible for participation in your sport. Some of my players have to study and put in a lot more hours to be successful. That is something to keep in mind as you prepare for a college career. It's not all about time. It's about time management.