Special from
Scholarship For Athletes
In his 17th season as the Virginia Tech Men's Tennis Coach, Jim Thompson has done his fair share of coaching and recruiting. Thompson has led the Hokies to the NCAA Tournament eleven times - including each of the past eight seasons.
Ross Greenstein of Scholarship for Athletes sat down with Coach Thompson to to discuss different aspects of the recruiting process and what he looks for in potential recruits.
Questions and Answers
Ross Greenstein (RG): As we know, ranking isn't everything, when you're recruiting a player what other attributes do you look for?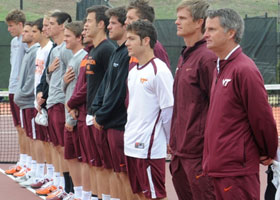 Jim Thompson (JT):
I think that when it shows players don't give up or default a lot it is important to me. Matches that are 6-4,6-0 and 6-3, 6-1 show a pattern. I like to see players battle in both sets. This does not mean a player won't lose a second set occasionally worse than the first, but I don't like to see that be the pattern. I also like to see that a player who does not have the ranking is not getting beat easily by players that do have the ranking we are looking for as that shows that they are clearly not the right level.
RG: What type of information do you like to receive when getting updated by a potential recruit?
JT: I like to see all the information, for example if being updated about a tournament, please give all the details. Opponents name, scores and maybe a quick summary of how you felt the match went.
RG: In the last four years, how many kids who did not play their first year played a lot for you their second year?
JT: We have had several who were fighting for the sixth and seventh spot that end up playing for us. Seldom does anyone who plays 10 or 11 play in the top six in the second year.