Tournament Summary
Asics Easter Bowl Champions Crowned in 12s, 14s and 16s Divisions
by
Colette Lewis
, 16 April 2016
Staggered completion dates for the Asics Easter Bowl meant the 12s and 14s finals were played on the hottest day of the nine-day tournament, while the 16s were required to deal with an unusual threat of rain in the desert. Players from across the country had converged on the Indian Wells Tennis Garden for the prestigious tournament, with the champions coming from Florida, Illinois, Missouri, Georgia and California.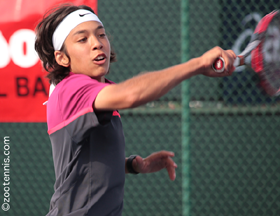 The 12s champions,
Max Fardanesh
and
Katrina Scott
, were the home state winners, although both had challenges in advancing to the finals. No. 11 seed Fardanesh needed to win match tiebreakers - played only in the 12s divisions - to take his third round and semifinal matches, while No. 2 seed Scott also survived two match tiebreakers, hers coming in the quarterfinals and semifinals.
In the championship match, Fardanesh met top seed Samuel Landau, coming away with a 6-4, 6-2 victory after shaking off some early jitters. The Albany, California, resident said the pregame announcer, the serve speed gun and the chair umpire took some getting used to.
"I was really nervous in the first three games," said Fardanesh, who turns 13 next month. "And then I got used to it. It was really cool to see how fast the serve was. The fastest one I saw was 96."
Once Fardanesh felt comfortable, he began to overpower Landau, using pace and a willingness to finish at the net to his advantage over the smaller left-hander from Los Angeles.
"My coach really likes serving and volleying, incorporating net play," said Fardanesh, coached by Skip Redondo. "My favorite player is Federer, who comes to the net a lot."
Like Federer, Fardanesh has a one-handed backhand, but he has only been using that shot for a year, at the suggestion of his coach.
"It's going good," said Fardanesh, who now has an Easter Bowl title as validation for that decision.