College Feature
Notre Dame, South Florida Are Best of BIG EAST
by Julie Wrege, 20 April 2009
The 2009 BIG EAST Tennis Championships opened play last Thursday on the home courts of the University of South Florida in Tampa, Fla. Since all of the teams in the conference except the host are from "Northern" states, the transition was difficult - going from playing indoors most of the season to playing outdoors in 80 degree weather with slight winds for four straight days. From the opening matches, competitive play was expected all weekend.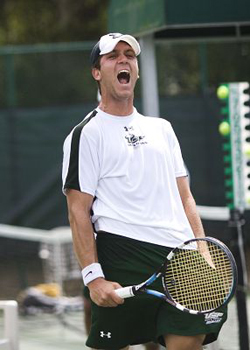 USF was excited to host the BIG EAST
© Julie Wrege, TennisRecruiting.net
Saturday morning found both men's and women's teams from three universities - DePaul, Louisville, and Notre Dame - in the semifinals. But it was the DePaul Blue Demons who provided the grittiest play, placing both of its teams in Sunday's finals for the first time in school history.
Louisville was pitted against DePaul in both the semifinals. The #45 nationally ranked Blue Demon women swept #6 seed Louisville 4-0, winning the doubles point and not losing a set in the singles. Louisville had upended #3 seed South Florida on their home courts 4-1 in the quarters.
Notre Dame, ranked #4 nationally, placed itself in position to take home its 9th BIG EAST Tennis Championship with a 4-0 sweep of upstart #5 seed Rutgers, who had upset #4 seed Marquette in the quarters.
The host men's team - the #41 nationally ranked South Florida - was looking for home cooking against #2-seeded Notre Dame. The Bulls took the doubles point and never looked back. Many Bulls fans were on hand to cheer on their red-hot squad to a 4-1 victory over the #28-ranked Irish.
The DePaul men's squad provided the the second upset in the semis. The unranked Blue Demons outlasted the #23 nationally-ranked Cardinals of Louisville 4-3.
The Cardinals took the doubles point as expected, and they looked in complete control with wins at #1 and #3 singles. But DePaul posted a victory at #6, and the last three singles matches all split sets.
DePaul ground out victories at #2 and #4 singles, so the match came down to the number five singles position. DePaul's Bartosz Jozwiak won the first set 7-5, but Louisville freshman Robert Hall fought back to take the second set 6-4. Jozwiak completed the upset with a 6-4 win in the third, clinching this major upset.
By Saturday evening, the reality of a new BIG EAST men's champion loomed. Neither the #3 seeded South Florida Bulls nor the #5 seeded DePaul Blue Demons had previously won a championship.
Men's Championship
Second-year head coach Matt Brothers of the Blue Demons said before the final match that he and his team had been thinking about this championship match for quite some time.