Tournament Preview
Eddie Herr Preview: 12s and 14s
by
Colette Lewis
, 26 November 2009
One of the pleasures of attending the Eddie Herr International tournament year after year is the opportunity to watch the progress of junior players from their pre-teen years through young adulthood. In the first of a two-part preview of this year's tournament, I'll look at some of the youngest competitors on the 30-odd courts of the IMG/Bollettieri Academy, most of whom are seeking the thrill of their first major international championship.
12s Division
Last year's boys 12 winner Hyeon Chung of Korea, who also won the Junior Orange Bowl, has aged up, leaving 2008 finalist Stefan Kozlov in the position of favorite. The 11-year-old from Pembroke Pines, Fla. won the prestigious Nike Junior Tour International Masters 12s last month in the Dominican Republic, one of the few matches in that age division he has played all year.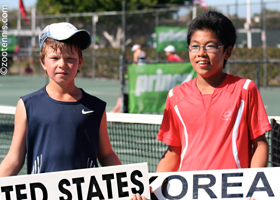 Russia's
Andrey Rublev
, who Kozlov defeated in the Nike competition's championship match, was a No. 1 seed at last year's Eddie Herr as an 11-year-old and he has had success in Europe in the 14s. Alexander Zverev of Germany is another 12-year-old who has played extensively in the 14s division in Europe, experience that will be valuable when facing the pressure of playing his peers again.
Like Rublev, David Volfson of Canada is a No. 1 seed from 2008 (there are 16 No. 1 seeds in the 128 draw) returning for a final shot at the prestigious international title, and he too has earned a European 14s ranking.
The Koreans always bring a strong contingent to Florida for the Eddie Herr and Junior Orange Bowl, and this year their top contender is expected to be Seongchan Hong.
Joining Kozlov as title threats from the U.S. are Tommy Paul of North Carolina, who is atop the USTA 12s rankings, and Maryland's Yancy Dennis and Francis Tiafoe.
This year's Nike Junior Tour International Masters Girls 12s champion Anastasiya Komardina of Russia leads the list of competitors hoping to replace 2008 champion Estelle Cascino of France. In additional to the Nike title, the 12-year-old Komardina has won two European 12-and-under tournaments this year.
Ana Konjuh of Croatia certainly doesn't lack for experience at the Eddie Herr. Despite being only 12, she will be playing there for the fourth consecutive year. Konjuh has won the only European 12s tournament she's played this year; her success in the 14s has earned her a ranking in Tennis Europe's Top 200 in that division.
China has seven girls in the main draw, with top-ranked Chaoyi Chen hoping to add another Eddie Herr girls 12s title to the one collected by compatriot Wan-ting Liu back in 2001.
Julie O'Loughlin heads the list of U.S. contenders as the USTA's top-ranked player in the 12s. O'Loughlin will be challenged by several girls who have made appearances in National finals: Eleven-year-old Tornado Ali Black, who beat O'Loughlin in the finals of USTA Spring Nationals in April, but plays few tournaments; Anastasia Nefedova, a 10-year-old who has been playing and winning 18-and-under sectional tournaments in Florida, and took the 12s Clay Court gold ball this summer; and Mariya Shishkina, who took the silver ball at the Clay Courts. Originally from Kazakhstan, the Nick Bollettieri protege now plays under the U.S. flag.