Tournament Feature
Rare Air: American Liu, Spain's Davidovich Fokina Claim Wimbledon Singles Titles
by
Colette Lewis
, 21 July 2017
Claire Liu and Alejandro Davidovich Fokina's titles at last week's Wimbledon Junior Championships ended long droughts for their countries. When Liu, a 17-year-old from Thousand Oaks California, defeated surprise finalist Ann Li 6-2, 5-7, 6-2 she became the first American since Chanda Rubin in 1992 to capture the girls championship at the All England Lawn Tennis Club. Davidovich's 7-6(2), 6-3 win over Argentina's Axel Geller ended 50 years of futility for Spain, whose only other Wimbledon boys champion was Manuel Orantes in 1967.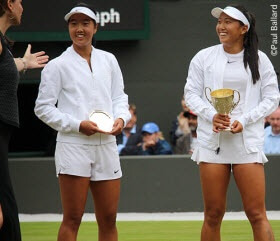 Singles Finalists Ann Li and Claire Liu
© Paul Ballard
Liu and Li were part of a strong contingent of American girls, with five of the quarterfinalists from the United States, including the top three seeds. The unseeded Li upset No. 1 seed Kayla Day 4-6, 6-2, 6-1 in the quarterfinals, while No. 2 seed Whitney Osuigwe, the French Open girls champion, lost to unseeded Sofya Lansere of Russia. No. 3 seed Liu defeated Lansere to reach her second consecutive junior slam final, while Li made the first junior slam of her career in only her second appearance with a semifinal win over unseeded Simona Waltert of Switzerland, who had beaten No. 14 seed Sofia Sewing of the United States in the quarterfinals.
The girls final, delayed 90 minutes by light rain, brought thousands of fans to Wimbledon's Court 1 to see the first all-US final since Mary Lou Piatek beat Alysia Moulton in 1979. After her three-set loss to Osuigwe in the French final, Liu looked determined to take control from the beginning against Li, who lost the first nine points of the match as she adjusted to the intimidating atmosphere. In just 25 minutes, Liu had taken the opening set, but signs that Li could regroup emerged at the end of the set, when she forced Liu to save a break point before closing it out.
Hopes for a long, competitive match dimmed when Liu broke in the first game of the second set, but Li broke back, a sequence repeated in the third and fourth games. Li got the first hold of the second set for a 3-2 lead, but gave up another break, and Liu held for 5-3. After Li held for 5-4, Liu had a routine victory in her sights, going up 40-0, but she was unable to convert any of her three match points.
Li's backhand return forced an error on the first match point, and a double fault erased the second. Liu forced the issue on her third match point, coming to the net, but Li hit a forehand pass for a winner. Then Li's backhand began to heat up, and a sizzling winner from that side got her the break for 5-5.
Li credited the fans for her surge during the final games of the second set.
"The crowd was getting into it for sure," said the 17-year-old Li, who lives in the Philadelphia area and trains at the USTA's Training Center in New York. "I could hear like, go Ann. It kind of got me going I guess. But I just put a lot of energy in and gave it my all. I just kind of let go."
Li held quickly to go up 6-5, and in the next game Liu couldn't convert six game points. Another penetrating backhand finally gave Li a set point, and she converted with Liu unable to get Li's overhead back in play.
"I was definitely disappointed," Liu said of her inability to convert her match points. "But I knew if I just tried to keep playing the next point, then I would have a better chance at winning than thinking back on those three points."
As in the first two sets, Li was broken to open the third set, and Liu was able to come back from 0-40 down to take a 2-0 lead. Although Li made Liu work hard to hold serve, Liu did hang on to that early break, then got a second with Li serving down 2-4. A big c'mon from Liu after she put away a backhand for a 5-2 lead demonstrated how important Liu considered that second break.
Serving for the match a second time, Liu took a 40-15 lead, but she couldn't convert on her fourth match point, with a Li backhand forcing an error. On match point No. 5, Liu finally could celebrate, letting out a loud c'mon and collapsing to the court, lying flat on her back for a few seconds before jumping up to share an embrace with Li at the net.
"It feels amazing," said Liu, who trains at USTA's Training Center in Carson, where she frequently encounters fellow Thousand Oaks native and Wimbledon semifinalist Sam Querrey. "I'm literally so speechless. I just keep smiling all the time. I still can't even believe it. I mean, it's like a dream come true."
Li, who was playing Liu for the first time, saw for herself why Liu has had so much success this spring and summer on both the ITF Junior and Pro Circuits.
"I think that she's just really solid," said Li, who has verbally committed to LSU for 2018. "She knows herself well and she figures out her opponent too. I think she tries to put pressure on from the beginning. I know she was a little bit nervous too, at the beginning, and she just played better than I did."
Liu, who has not yet turned pro, will concentrate on USTA Pro Circuit and WTA events the remainder of the summer, although both she and Li are planning to play the USTA Nationals in San Diego and the US Open Junior Championships.
"I'm just going to try to get better every day, and hopefully the results will come," said Liu, who took over the No. 1 spot in the ITF junior rankings with her titles at Roehampton and Wimbledon.