Championship Return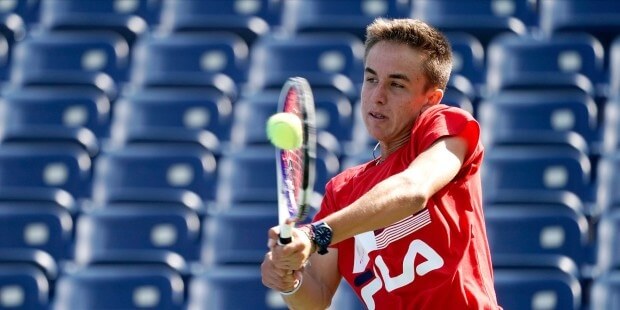 After an unexpected year off because of the pandemic, the USTA National Championships have returned this month. From California to Michigan to Georgia to Alabama, players will be chasing the prestigious hard court titles, gold balls and US Open wild cards. Story
Connect with Lotto Elite on Instagram and Facebook.
Help build our following.
Follow us on Facebook


adidas adiplayer is the proud sponsor of the National Showcase Series, a set of USTA-sanctioned tournaments open to players from all sections. Compete against players outside of your district or section - and earn credit towards your Tennis Recruiting ranking.
Date
Tournament
Events
8/07
Level 4 Open - Greater El Paso Open
El Paso, TX
BG18-12
8/21
Level 4 Open - Summer Smash (Boys)
Delray Beach, FL
B18-12
8/28
Level 4 Open - Summer Smash (Girls)
Delray Beach, FL
G18-12
9/11
Level 5 Open - AZ Jr. Challenger
Tucson, AZ
BG18-12
10/02
Level 5 Open - Phoenix Jr. Challenger
Phoenix, AZ
BG18-12
11/13
Level 5 Open - TC of Albuquerque Open
Albuquerque, NM
BG18-12
11/19
Level 5 Open - Western States Open
Tucson, AZ
BG18-12
Click here for the complete
Series Schedule

The Tennis Recruiting Network is proud to present exclusive college content covering men's and women's college tennis programs from around the country.

Smith Stearns Tennis Academy is proud to present the College Commitment Lists. Check out the latest commitments here - and the full listings below.
Full Listings: Boys' Commits & Girls' Commits
Smith Stearns Tennis Academy
- training young players with a true passion for tennis since 2002.
| | |
| --- | --- |
| For all things college tennis, check out College Tennis Today - with coverage, insight, and analysis of the game. | |

The USTA's Tennis On Campus program is designed to provide college students with opportunities for team camaraderie, social networking, and rivaled competition through tennis without the rigors of a varsity program.
| | | |
| --- | --- | --- |
| Last month, the USTA handed out gold balls to the winners of the 2021 Clay Court Championships. Take a look at the champions. | | |